When:
06/15/2020 @ 6:00 PM – 7:00 PM
2020-06-15T18:00:00-05:00
2020-06-15T19:00:00-05:00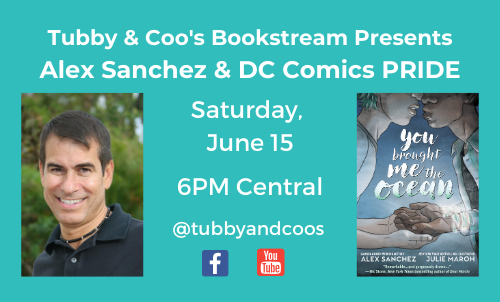 Join us on Monday, June 15 at 6PM Central as we talk with Alex Sanchez about his new graphic novel, You Brought Me the Ocean, in partnership with DC Comics to celebrate PRIDE month.
Watch our Bookstream on our home page, Facebook, or YouTube.
Order You Brought Me the Ocean here.
ABOUT YOU BROUGHT ME THE OCEAN
The voices that shaped LGBTQ Young Adult literature, Lambda Award-Winning author Alex Sanchez (Rainbow Boys) and New York Times bestselling illustrator Julie Maroh (Blue Is the Warmest Color), present a new coming-out romance set against the backdrop of the DC Universe.
Jake Hyde doesn't swim–not since his father drowned. Luckily, he lives in Truth or Consequences, New Mexico, which is in the middle of the desert. And yet he yearns for the ocean and is determined to leave his hometown for a college on the coast. But his best friend, Maria, wants nothing more than to make a home in the desert, and Jake's mother encourages him to always play it safe.
But there's nothing "safe" about Jake's future–not when he's attracted to Kenny Liu, swim team captain and rebel against conformity. And certainly not when he secretly applies to Miami University. Jake's life becomes a reflection of the name of his small town–does he live his truth and face the consequences?
Jake is full of secrets, including the strange blue markings on his skin that glow when in contact with water. What power will he find when he searches for his identity, and will he turn his back to the current or dive headfirst into the waves?
ABOUT THE AUTHOR
Alex Sanchez has published eight novels, including the American Library Association "Best Book for Young Adults" Rainbow Boys and Lambda Award-winning So Hard to Say. His novel Bait won the Tomas Rivera Mexican-American Book Award and the Florida Book Award Gold Medal for Young Adult fiction. He has a master's degree in guidance and counseling and worked for many years as a youth and family counselor.