When:
10/20/2021 @ 6:00 PM – 7:00 PM
2021-10-20T18:00:00-05:00
2021-10-20T19:00:00-05:00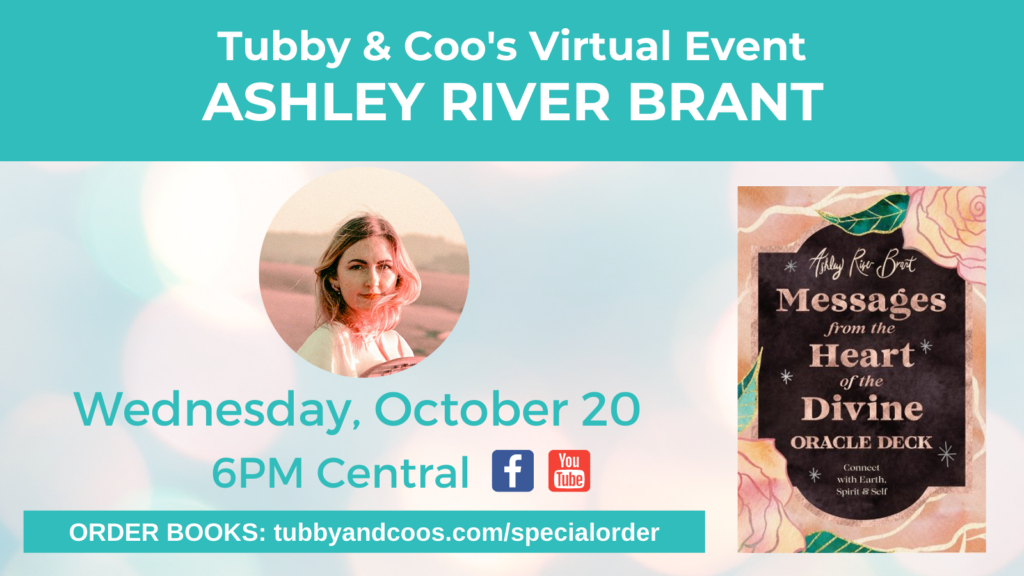 Join us on Wednesday, October 20 at 6pm CT as we host Ashley River Brant to discuss her new Oracle Deck, Messages from the Heart of the Divine Oracle Deck: Connect with Earth, Spirit & Self. This event will livestream to Facebook and YouTube.
Order the deck below!
ABOUT MESSAGES FROM THE HEART OF THE DIVINE ORACLE DECK
An oracle deck infused with Earth Spirit magic in each card, created to mirror your heart's truth and help you tap into the abundant healing energy of love.
"Your beautiful and bountiful heart is a bridge for all that is sacred," says Ashley River Brant. "It carries the keys for all the wisdom you seek, all that you desire to create or become, and all the nourishment your soul needs in this lifetime." Now this artist, spiritual medium, and medicine woman brings you a potent transformative tool to help you come home to the healing power of your heart with her new Messages from the Heart of the Divine Oracle Deck.
Every card in the Messages from the Heart of the Divine Oracle Deck is charged with unique nature magic. Each of these 44 cards is painted with plant and mineral pigments, natural waters from the rivers, creeks, and oceans, and flower essences to encode each card with a specific alchemy of Earth Spirit healing. The accompanying guidebook provides you with instructions on how to interact with the cards, sample spreads, and rituals to help you engage more deeply with the card's message.
By working with this deck, you can increase your connection to your innate healing powers and intuitive wisdom, see yourself more clearly through the lens of your higher self, and feel more in alignment with your true nature. You'll awaken the courage and confidence you need to show up in the world as you truly are. "You are actually the oracle," says Brant. "This deck simply offers guidance for you to see that within yourself."
ABOUT ASHLEY RIVER BRANT
Ashley River Brant is a multidimensional artist and feminine healer bringing her medicine through as the creator of Soul Tattoo®, a ceremonial intuitive tattooing modality, as well as with film photography, illustration, writing, and through her online courses. Ashley uses her gifts of mediumship and connections to the loving spirits of the natural world to offer a feminine voice of healing expression for collective transformation in all her work. Ashley's focus is to assist her clients, and all who are drawn to her work, in awakening to a new wave of feminine power, attuned to the mystery, honoring the creative and intuitive power within us all, and embodying it with grounded presence and purpose, so that we may all heal, open our hearts to the sacred, and align with our authentic expression and soul's true essence. For more, visit ashleyriverbrant.love.
Order the deck below!