When:
10/23/2021 @ 7:00 PM – 8:00 PM
2021-10-23T19:00:00-05:00
2021-10-23T20:00:00-05:00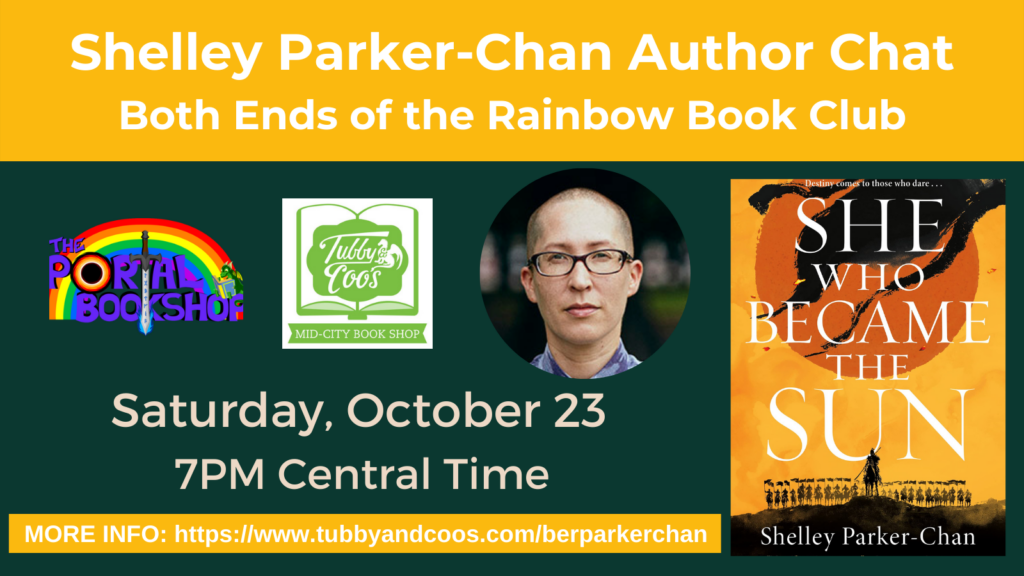 Join the Both Ends of the Rainbow Book Club, a club in partnership with The Portal Bookshop in York, England. This is a book club in which we discuss queer science fiction and fantasy books, focusing mostly on books featuring queer characters and written by queer authors. Join us on Saturday, October 23 at 7:00PM CT as we host Shelley Parker-Chan for an author chat about She Who Became the Sun. This book club author chat will take place via YouTube.
Join our Discord server to engage in conversation with folks around the world about queer science fiction and fantasy! If you would like to join our book discussions but do not wish to join the Discord server, you can join our book club e-mail list.
ABOUT SHE WHO BECAME THE SUN
To possess the Mandate of Heaven, the female monk Zhu will do anything
"I refuse to be nothing…"
In a famine-stricken village on a dusty yellow plain, two children are given two fates. A boy, greatness. A girl, nothingness…
In 1345, China lies under harsh Mongol rule. For the starving peasants of the Central Plains, greatness is something found only in stories. When the Zhu family's eighth-born son, Zhu Chongba, is given a fate of greatness, everyone is mystified as to how it will come to pass. The fate of nothingness received by the family's clever and capable second daughter, on the other hand, is only as expected.
When a bandit attack orphans the two children, though, it is Zhu Chongba who succumbs to despair and dies. Desperate to escape her own fated death, the girl uses her brother's identity to enter a monastery as a young male novice. There, propelled by her burning desire to survive, Zhu learns she is capable of doing whatever it takes, no matter how callous, to stay hidden from her fate.
After her sanctuary is destroyed for supporting the rebellion against Mongol rule, Zhu takes the chance to claim another future altogether: her brother's abandoned greatness.

ABOUT SHELLEY PARKER-CHAN
Shelley Parker-Chan is an Asian-Australian former diplomat and international development adviser who spent nearly a decade working on human rights, gender equality and LGBT rights in Southeast Asia. Named after the Romantic poet, she was raised on a steady diet of Greek myths, Arthurian legend and Chinese tales of suffering and tragic romance. Their debut novel She Who Became the Sun owes more than a little to all three. In 2017 Shelley was awarded an Otherwise (Tiptree) Fellowship for a work of speculative narrative that expands our understanding of gender. They currently live in Melbourne, Australia.
Order the book below!