When:
02/24/2021 @ 6:00 PM – 7:00 PM
2021-02-24T18:00:00-06:00
2021-02-24T19:00:00-06:00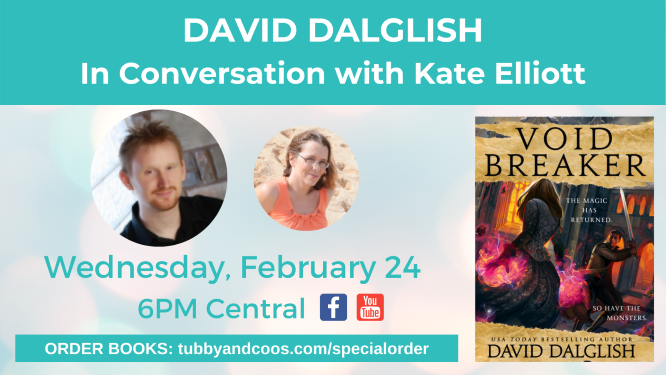 Join us on Wednesday, February 24 at 6pm CT for a conversation between authors David Dalglish and Kate Elliott about David's new novel, Voidbreaker! This event will livestream to Facebook, YouTube, and our website homepage.
Order Books below!
ABOUT DAVID DALGLISH
David Dalglish graduated from Missouri Southern State University in 2006 with a degree in Mathematics. He's self-published over fifteen novels, as well as had twelve books traditionally published through Orbit Books and 47North. He writes The Keepers series, in which he is releasing the third book, Voidbreaker, on February 9. He also has a lovely wife and three beautiful daughters, with all four being far better than he deserves.
ABOUT KATE ELLIOTT
Kate Elliott has been writing stories since she was nine years old, which has led her to believe that writing, like breathing, keeps her alive. As a child in rural Oregon, she made up stories because she longed to escape to a world of lurid adventure fiction.
Her most recent novel is Unconquerable Sun, gender swapped Alexander the Great in space. She is also known for her Crown of Stars epic fantasy series, the Afro-Celtic post-Roman alt-history fantasy (with lawyer dinosaurs) Cold Magic and sequels, the science fiction Novels of the Jaran and YA fantasy Court of Fives, and the epic fantasy Crossroads trilogy with giant justice eagles.
Her particular focus is immersive world building & centering women in epic stories of adventure & transformative cultural change. She lives in Hawaii, where she paddles outrigger canoes & spoils her schnauzer. You can find her online at kateelliott.substack.com and @KateElliottSFF on Twitter.
Order Books below!