When:
08/03/2021 @ 6:00 PM – 7:00 PM
2021-08-03T18:00:00-05:00
2021-08-03T19:00:00-05:00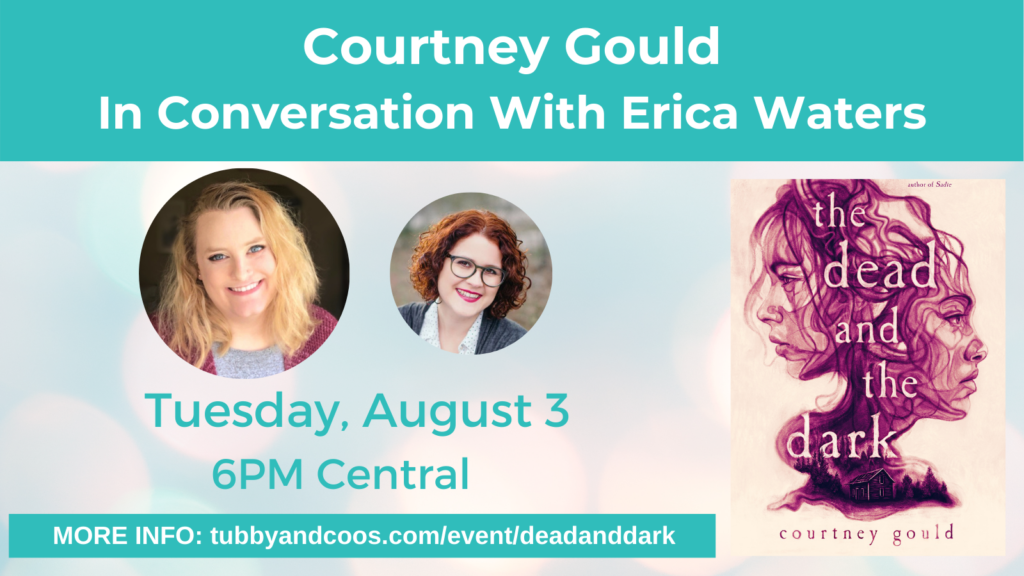 Join us on Tuesday, August 3 at 6pm CT for a conversation between authors Courtney Gould and Erica Waters about Courtney's new book, The Dead and the Dark! This event will livestream to Facebook, YouTube, and our website homepage.
Order Books below!
ABOUT THE DEAD AND THE DARK
Courtney Gould's thrilling YA debut The Dead and the Dark is about the things that lurk in dark corners, the parts of you that can't remain hidden, and about finding home in places–and people–you didn't expect.
The Dark has been waiting–and it won't stay hidden any longer.
Something is wrong in Snakebite, Oregon. Teenagers are disappearing, some turning up dead, the weather isn't normal, and all fingers point to TV's most popular ghost hunters who have just come to town.
Logan Ortiz-Woodley, daughter of TV's ParaSpectors, has never been to Snakebite before. But the moment she and her dads arrive, she starts to get the feeling that there's more than ghosts plaguing this small town. Ashley Barton's boyfriend was the first teen to go missing, and she's felt his ghost following her ever since. Although everyone shuns the Ortiz-Woodleys, the mysterious Logan may be the only person who can help Ashley get some answers.
When Ashley and Logan team up to figure out who–or what–is haunting Snakebite, their investigation reveals truths about the town, their families, and themselves that neither of them are ready for. As the danger intensifies, they realize that their growing feelings for each other could be a light in the darkness.
ABOUT COURTNEY GOULD
Courtney Gould writes books about queer girls, ghosts, and things that go bump in the night. She graduated from Pacific Lutheran University in 2016 with a Bachelor's degree in Creative Writing and Publishing. Born and raised in Salem, OR, she now lives and writes in Tacoma, WA where she continues to write love letters to the haunted girls and rural, empty spaces. The Dead and the Dark is her debut novel.
ABOUT ERICA WATERS
Erica Waters grew up in the pine woods of rural Florida, though she now resides in Nashville, Tennessee. She has a Master's degree in English and works as a university writing tutor. When she's not writing books, you can find her hanging out with her two dogs, Nutmeg and Luna. Her debut novel, Ghost Wood Song, was a Bram Stoker Awards finalist and was nominated for YALSA's 2021 list of the Best Fiction for Young Adults. Her forthcoming books include The River Has Teeth and The Restless Dark.
Order Books below!