When:
02/23/2021 @ 6:00 PM – 7:00 PM
2021-02-23T18:00:00-06:00
2021-02-23T19:00:00-06:00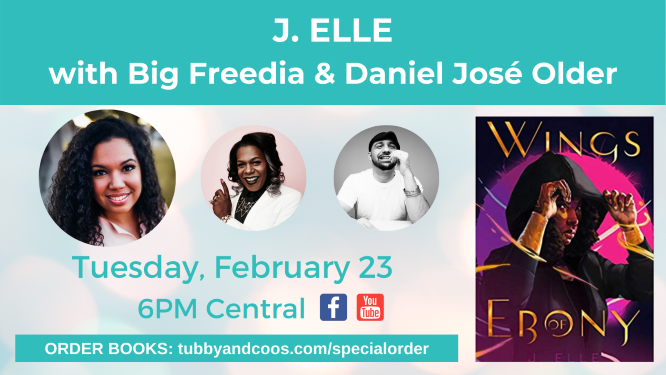 Join us on Tuesday, February 23 at 6pm CT for a conversation among J. Elle, Big Freedia, and Daniel José Older about J. Elle's new novel, Wings of Ebony! This event will livestream to Facebook, YouTube, and our website homepage.
The authors will discuss the importance of seeing heroes from within a community, not outside of it, from an insider's perspective and the powerful impact of those communities – in real life and portrayed through literature.
Order Books below! 
ABOUT J. ELLE
J. Elle is a prolific Black author and advocate for marginalized voices in both publishing and her community. Her debut novel, Wings of Ebony, sold in a six-figure pre-empt and is part of a YA fantasy duology about a Black girl from a poor neighborhood who learns she's magical. 
From growing up poor to being a first generation college student, Jess' tenacity and passion for empowering others dates back to her first career in education, teaching tweens and teens from traditionally underserved areas to fight for their dreams. More recently, as the founder of the Your Story Is Your Power, a creative writing workshop, she mentors high schoolers on the craft of writing and the importance of sharing stories from their perspective.
Elle has worked as an Editorial Intern at P.S. Literary Agency and Gelfman / ICM Partners. She's also served as a mentor for both Pitchwars and Author Mentor Match. Elle is the founder and co-host of #MondayMixer, a Twitter chat to engage writers on the platform with networking opportunities, writing questions, and encouragement. In her spare time you'll find her cooking up some dish true to her Texas and Louisiana roots, loving on her three littles, and traveling the country with her nomadic spouse. Learn more at https://authorjelle.com and https://www.wingsofebony.com.
ABOUT BIG FREEDIA
Known as the Queen of Bounce music, Big Freedia is New Orleans-based hip-hop artist and worldwide ambassador of bounce music. After a series of cult hit singles during the mid 2000's, she was tapped for a reality show, Big Freedia Bounces Back on Fuse TV. The docuseries followed the life of a choirboy turned bounce rapper and remains the highest rated original series on the network.
It was only a matter of time until Big Freedia caught the attention of iconic artists including Beyoncé and Drake. She was featured on both Beyoncé's Grammy-winning single, "Formation" and Drake's "Nice For What."
Big Freedia released the critically acclaimed album, '3rd Ward Bounce' (which featured Lizzo among others) on Asylum Records in 2018. In the summer of 2019, the Queen of Bounce debuted her limited run ice cream flavor 'Big Freedia's Bouncin' Beignets' with the ice cream giant Ben & Jerry's. She graced the cover of Billboard Magazine, and was invited by Vogue Magazine to be the official host of the Iive Instagram stream for the Met Gala.
In October 2019, Big Freedia and multi-platinum pop artist Kesha released their new pop single "Raising Hell." The song remains on the pop radio charts and the two performed the hit song on Jimmy Kimmel LIVE!
Big Freedia's latest single "Louder" from her forthcoming project dropped in November. She is also the author of the critically acclaimed memoir, Big Freedia: God Save the Queen Diva! on Gallery Books/Simon & Schuster.
ABOUT DANIEL JOSÉ OLDER
Daniel José Older is the New York Times bestselling author of the upcoming sci-fi adventure Flood City, the Middle Grade historical fantasy series Dactyl Hill Squad, The Book of Lost Saints, the Bone Street Rumba urban fantasy series, Star Wars: Last Shot, and the award winning Young Adult series the Shadowshaper Cypher, which won the International Latino Book Award and was shortlisted for the Kirkus Prize in Young Readers' Literature, the Andre Norton Award, the Locus, the Mythopoeic Award, and named one of Esquire's 80 Books Every Person Should Read. He is a lead story architect on the Star Wars cross platform initiative The High Republic. He co-wrote the upcoming graphic novel Death's Day and writes the monthly IDW comic book series The High Republic Adventures. You can find more info and read about his decade long career as an NYC paramedic at http://danieljoseolder.net/.
Order Books below! Signed copies available of Flood City!