When:
05/13/2021 @ 6:00 PM – 7:00 PM
2021-05-13T18:00:00-05:00
2021-05-13T19:00:00-05:00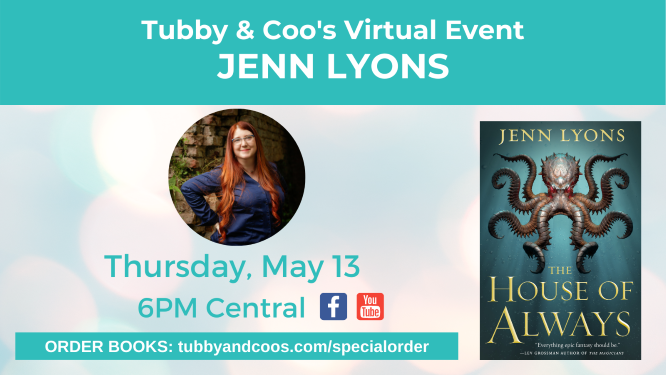 Join us on Thursday, May 13 at 6pm CT as we host author Jenn Lyons to discuss her newest novel, The House of Always, the fourth book in the Chorus of Dragons series, which began with The Ruin of Kings. This event will livestream to Facebook, YouTube, and our website homepage.
Order books below!
ABOUT THE HOUSE OF ALWAYS
For fans of Brandon Sanderson and Patrick Rothfuss, The House of Always is the fourth epic fantasy in Jenn Lyons' Chorus of Dragons series that began with The Ruin of Kings.

What if you were imprisoned for all eternity?

In the aftermath of the Ritual of Night, everything has changed.

The Eight Immortals have catastrophically failed to stop Kihrin's enemies, who are moving forward with their plans to free Vol Karoth, the King of Demons. Kihrin has his own ideas about how to fight back, but even if he's willing to sacrifice everything for victory, the cost may prove too high for his allies.

Now they face a choice: can they save the world while saving Kihrin, too? Or will they be forced to watch as he becomes the very evil they have all sworn to destroy.
ABOUT JENN LYONS
Jenn Lyons lives in Atlanta, Georgia, with her husband, three cats and a nearly infinite number of opinions on anything from Sumerian mythology to the correct way to make a martini. Lyons traces her geek roots back to playing first edition Dungeons & Dragons in grade school and reading her way from A to Z in the school's library. Formerly an art director and video game producer, she now spends her days writing fantasy. In 2020, she was nominated for the Astounding Award for Best New Writer. Her five-book Chorus of Dragons fantasy series begins with The Ruin of Kings.
Order books below!