When:
06/08/2022 @ 6:00 PM – 7:00 PM
2022-06-08T18:00:00-05:00
2022-06-08T19:00:00-05:00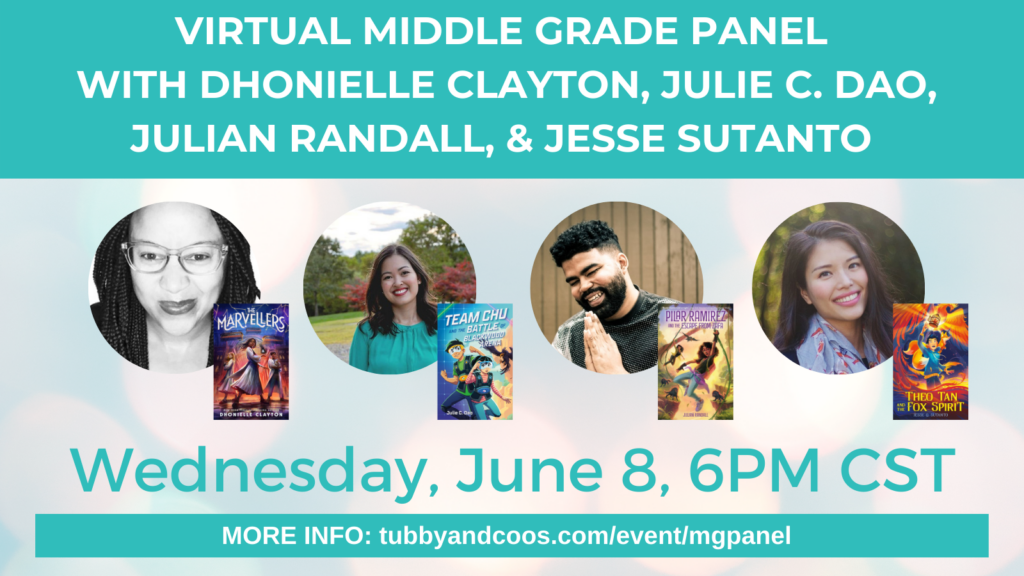 Tubby & Coos Mid-City Bookshop is pleased to present a virtual middle grade panel with authors Dhonielle Clayton, Julie C. Dao, Julian Randall, and Jesse Sutanto to discuss their newest releases The Marvellers, Team Chu and the Battle of Blackwood Arena, Pilar Ramirez and the Escape from Zafa, Theo Tan and the Fox Spirit. This event will be held digitally via Crowdcast. 
We're excited to host a custom RPG/choose your own adventure game with the author panel playing their own main characters! Don't miss out on what's shaping up to be a really fun event!
You can register for this event by ordering any of the books below or you can click here to register with a donation of any amount of your choice. Donations are to help sustain our events programming. If you cannot afford to purchase the book or to donate even $1, you may register for the event for free, no questions asked, by e-mailing us at events@tubbyandcoos.com. There will also be the option to purchase the book during the event!
Please note Tubby & Coo's has a zero tolerance policy for harassment or intimidation of any kind during our events.
To Register: Order the books below, or click the "Register" button below!
Order any book below to register!
About the Books & Panelists
ABOUT THE MARVELLERS

Eleven-year-old Ella Durand is the first Conjuror to attend the Arcanum Training Institute, a magic school in the clouds where Marvellers from around the world practice their cultural arts, like brewing Indian spice elixirs and bartering with pesky Irish pixies.
Despite her excitement, Ella discovers that being the first isn't easy—some Marvellers mistrust her magic, which they deem "bad and unnatural." But eventually, she finds friends in elixirs teacher, Masterji Thakur, and fellow misfits Brigit, a girl who hates magic, and Jason, a boy with a fondness for magical creatures.
When a dangerous criminal known as the Ace of Anarchy escapes prison, supposedly with a Conjuror's aid, tensions grow in the Marvellian world and Ella becomes the target of suspicion. Worse, Masterji Thakur mysteriously disappears while away on a research trip. With the help of her friends and her own growing powers, Ella must find a way to clear her family's name and track down her mentor before it's too late.
ABOUT TEAM CHU AND THE BATTLE OF BLACKWOOD ARENA

Clip and Sadie Chu couldn't be more different. Popular, athletic Clip wants to become his school's first seventh-grade soccer captain, while brainy star student Sadie is determined to prove that she can do anything her boastful brother can.
They have just one thing in common: they love laser tag. Like, really love it.
When the Blackwood Gaming Arena comes to town, bringing virtual reality headsets and state-of-the-art courses, they couldn't be more excited—or competitive. But then a mysterious figure appears and claims to be a part of the game, forcing the Chus and their friends to save themselves from a sinister force lurking inside the simulation. Together, they must fight their way through epic battlegrounds that will test their speed, skills, and smarts . . . but will Clip and Sadie learn that they're far better off working together than competing for the ultimate victory?
ABOUT PILAR RAMIREZ AND THE ESCAPE FROM ZAFA

Twelve-year-old Pilar Violeta "Purp" Ramirez's world is changing, and she doesn't care for it one bit. Her Chicago neighborhood is gentrifying and her chores have doubled since her sister, Lorena, left for college. The only constant is Abuela and Mami's code of silence around her cousin Natasha—who vanished in the Dominican Republic fifty years ago during the Trujillo dictatorship.
When Pilar hears that Lorena's professor studies such disappearances, she hops on the next train to dig deeper into her family's mystery. After snooping around the professor's empty office, she discovers a folder with her cousin's name on it . . . and gets sucked into the blank page within.
She lands on Zafa, an island swarming with coconut-shaped demons, butterfly shapeshifters, and a sinister magical prison where her cousin is being held captive. Pilar will have to go toe-to-toe with the fearsome Dominican boogeyman, El Cuco, if she has any hope of freeing Natasha and getting back home.
ABOUT THEO TAN AND THE FOX SPIRIT

Theo Tan doesn't want a spirit companion. He just wants to be a normal American kid, playing video games, going to conventions, and using cirth pendants to cast his spells like everyone else. But, when his older brother dies, Theo ends up Inheriting Jamie's fox spirit, Kai.
Kai isn't happy about this either. Theo is nothing like Jamie, and the two of them have never gotten along. But, when they realize the mysterious journal Jamie left Theo is filled on with Jamie's internship at Reapling Corp.
But the only way onto the campus is the highly competitive "Know Your Roots" summer camp program, a celebration of Chinese and Indian cultures designed to help connect students with
 their heritage. Theo and Kai will have to put aside their differences long enough to honor Jamie's last wishes, or the mystery he died for Will remain unsolved forever…
ABOUT DHONIELLE CLAYTON
Dhonielle Clayton is a New York Times Bestselling author of The Belles series, Shattered Midnight, co-author of Blackout, and the co-author of the Tiny Pretty Things duology, a Netflix original series. She hails from the Washington, D.C. suburbs on the Maryland side. She taught secondary school for several years, and is a former elementary and middle school librarian. She is COO of the non-profit We Need Diverse Books, and President of Cake Creative, an IP story kitchen dedicated to diverse books for all ages. She's an avid traveler, and always on the hunt for magic and mischief. Up next: The Marvellers, her middle grade fantasy debut. You can find her on social media @brownbookworm.
ABOUT JULIE C. DAO

Julie C. Dao is the critically acclaimed author of many books for teens and children. Her novels have earned starred reviews from Booklist, School Library Journal, and Publishers Weekly, won recognition as Junior Library Guild Selections and Kids' Indie Next List picks, and landed on multiple best-of-year lists including YALSA and the American Library Association. A proud Vietnamese-American who was born in upstate New York, she now lives in New England. Follow her on Twitter @jules_writes.
ABOUT JULIAN RANDALL

Julian Randall is a Living Queer Black poet from Chicago. He has received fellowships from Cave Canem, CantoMundo, Callaloo, BOAAT and the Watering Hole. Julian is the recipient of a Pushcart Prize. Julian is the winner of the 2019 Betty Berzon Emerging Writer Award from the Publishing Triangle. His writing has been published in New York Times Magazine, Ploughshares, and POETRY, and anthologized in Black Boy Joy (which debuted at #1 on the NYT Best Seller list), Wild Tongues Can't Be Tamed and Furious Flower. He has essays in The Atlantic, Vibe Magazine, Los Angeles Review of Books, and other venues. He holds an MFA in Poetry from Ole Miss. He is the author of Refuse (Pitt, 2018), winner of the 2017 Cave Canem Poetry Prize and a finalist for a 2019 NAACP Image Award, as well as the middle grade novel Pilar Ramirez And The Escape from Zafa (Holt, Winter 2022), and The Dead Don't Need Reminding: Essays (Bold Type Books, Spring 2023). He can be found on Twitter @JulianThePoet.
ABOUT JESSE Q. SUTANTO

Jesse Q Sutanto grew up shuttling back and forth between Indonesia, Singapore, and Oxford, and considers all three places her home. She has a Masters from Oxford University, but she has yet to figure out how to say that without sounding obnoxious. Jesse has forty-two first cousins and thirty aunties and uncles, many of whom live just down the road. She used to game but with two little ones and a husband, she no longer has time for hobbies. She aspires to one day find one (1) hobby.
To Register: Order the books below, or click the "Register" button below!
Please note Tubby & Coo's has a zero tolerance policy for harassment or intimidation of any kind during our events. 
Order any book below to register!