When:
05/11/2021 @ 6:00 PM – 7:00 PM
2021-05-11T18:00:00-05:00
2021-05-11T19:00:00-05:00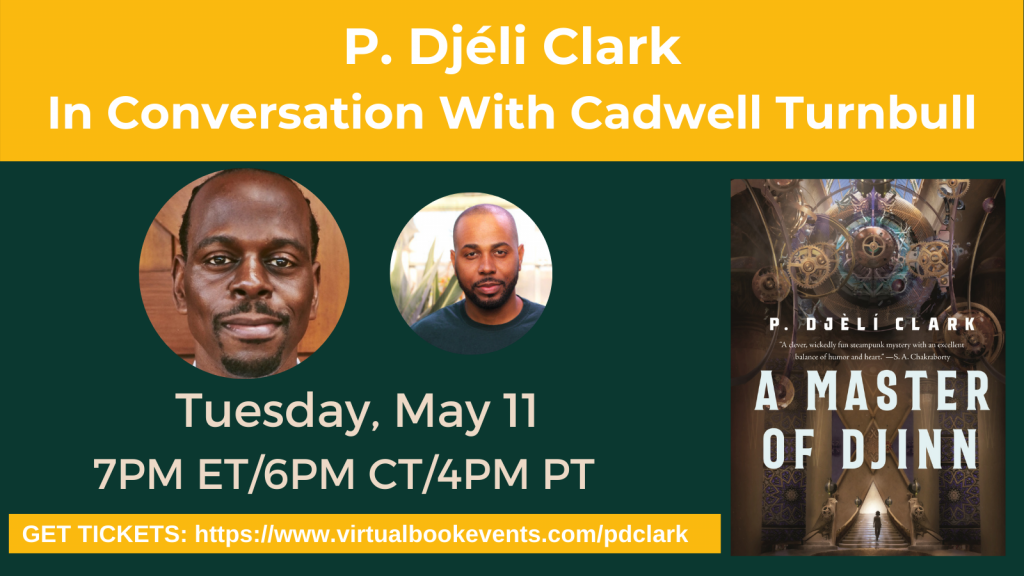 Join us on Tuesday, May 11 at 6pm CT as we launch P. Djéli Clark's first full-length fantasy novel, A Master of Djinn, with a conversation between P. Djéli Clark and Cadwell Turnbull! 
**You must purchase a copy of A Master of Djinn to attend this event. Purchase a copy here or click on the book cover below. Once your copy is purchased, you will be sent the link and password for the event. Ticket includes a copy of the book and a signed bookplate, as well as access to the virtual launch event.**
If you have already purchased a copy of the book and do not receive the link and password by the morning of the event on April 20, please e-mail events@tubbyandcoos.com and we will check your registration for the event.
Order Books below!
This launch event celebrates the fantasy novel debut of Nebula, Locus, and Alex Award-winning author, P. Djèlí Clark, as he returns to his popular alternate Cairo universe in A Master of Djinn.
P. Djèlí Clark will be in conversation with best-selling author Cadwell Turnbull, author of the science fiction novel The Lesson.
Six independent bookstores have teamed up to bring you this exciting conversation between these two gifted writers. 
Cadwell Turnbull's book is also available for purchase, but a purchase of The Lesson will not count as event registration. Only a purchase of A Master of Djinn counts as event registration.
ABOUT A MASTER OF DJINN
A Master of Djinn is poised to launch P. Djèlí Clark's science-fiction/fantasy career to new heights as the highly-anticipated debut readers are clamoring for.
Cairo, 1912: Though Fatma el-Sha'arawi is the youngest woman working for the Ministry of Alchemy, Enchantments and Supernatural Entities, she's certainly not a rookie, especially after preventing the destruction of the universe last summer.

So when someone murders a secret brotherhood dedicated to one of the most famous men in history, al-Jahiz, Agent Fatma is called onto the case. Al-Jahiz transformed the world forty years ago when he opened up the veil between the magical and mundane realms, before vanishing into the unknown. This murderer claims to be al-Jahiz, returned to condemn the modern age for its social oppressions. His dangerous magical abilities instigate unrest in the streets of Cairo that threaten to spill over onto the global stage.

Alongside her Ministry colleagues and a familiar person from her past, Agent Fatma must unravel the mystery behind this imposter to restore peace to the city—or face the possibility he could be exactly who he seems…
ABOUT P. DJÉLI CLARK
Phenderson Djéli Clark is the award winning and Hugo, Nebula, Sturgeon, and World Fantasy nominated author of the novellas Ring Shout, The Black God's Drums and The Haunting of Tram Car 015. He is a founding member of FIYAH Literary Magazine and an infrequent reviewer at Strange Horizons.
Born in New York and raised mostly in Houston, Texas, he spent the early formative years of his life in the homeland of his parents, Trinidad and Tobago. When not writing speculative fiction, P. Djèlí Clark works as an academic historian whose research spans comparative slavery and emancipation in the Atlantic World. He melds this interest in history and the social world with speculative fiction, and has written articles on issues ranging from racism and H.P. Lovecraft to critiques of George Schuyler's Black Empire, and has been a panelist and lecturer at conventions, workshops and other genre events.
Currently, he resides in a small Edwardian castle in New England with his wife, infant daughters, and pet dragon (who suspiciously resembles a Boston Terrier). When so inclined he rambles on issues of speculative fiction, politics, and diversity at his aptly named blog The Disgruntled Haradrim.
ABOUT CADWELL TURNBULL
Cadwell Turnbull is the author of The Lesson. His short fiction has appeared in The Verge, Lightspeed, Nightmare, Asimov's Science Fiction, and several anthologies, including The Best American Science Fiction and Fantasy 2018 and The Year's Best Science Fiction and Fantasy 2019. His novel The Lesson was the winner of the 2020 Neukom Institute Literary Award in the debut category. The novel was also short-listed for the VCU Cabell Award and long-listed for the Massachusetts Book Award. Turnbull lives in Raleigh and teaches at North Carolina State University.
Order Books below!