Sam Schill & Swallow
When:
07/27/2021 @ 6:00 PM – 7:00 PM
2021-07-27T18:00:00-05:00
2021-07-27T19:00:00-05:00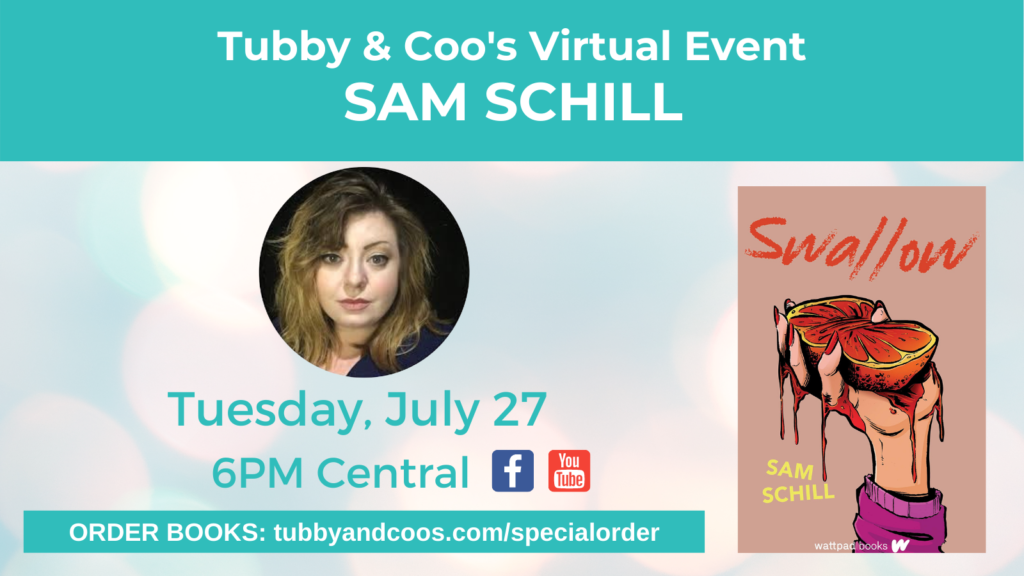 Join us on Tuesday, July 27 at 6pm CT as we host author Sam Schill to discuss her book, Swallow. This event will livestream to Facebook, YouTube, and our website homepage.
Order the book below!
ABOUT SWALLOW
Revenge is a dish best served cold.
The students at Roanoke High School have created a soundtrack that runs constantly in Mildred Waco's mind . . .
Change your hair, Mildred.
Change your face, Mildred.
Change your body, Mildred.
Everyone hates you, Mildred.
Are you really going to wear that, Mildred?
The stares, the snickers, the constant teasing–combined with Mildred's own self-doubt and absentee parents–takes its toll. Stumbling upon the Crossroads Magicks shop, Mildred decides she will no longer simply endure the bullying and skeptically buys a revenge curse.
But when she begins to lose control and Roanoke students are found brutally murdered, Mildred realizes that she may have bought more than she bargained for. With time running out, Mildred will have to stop the terrible forces she's unleashed or lose her soul forever.
ABOUT SAM SCHILL
Sam Schill penned her first story at age nine after telling scary stories as a child. She's had a slew of jobs in retail, housekeeping, and even dabbled in tattooing, but writing has always been the most natural to her. When she isn't reading or writing horror, Sam enjoys art and 90's music karaoke, and she lives in Southeastern Kentucky with her family.
Order the book below!