When:
09/16/2021 @ 6:00 PM – 7:00 PM
2021-09-16T18:00:00-05:00
2021-09-16T19:00:00-05:00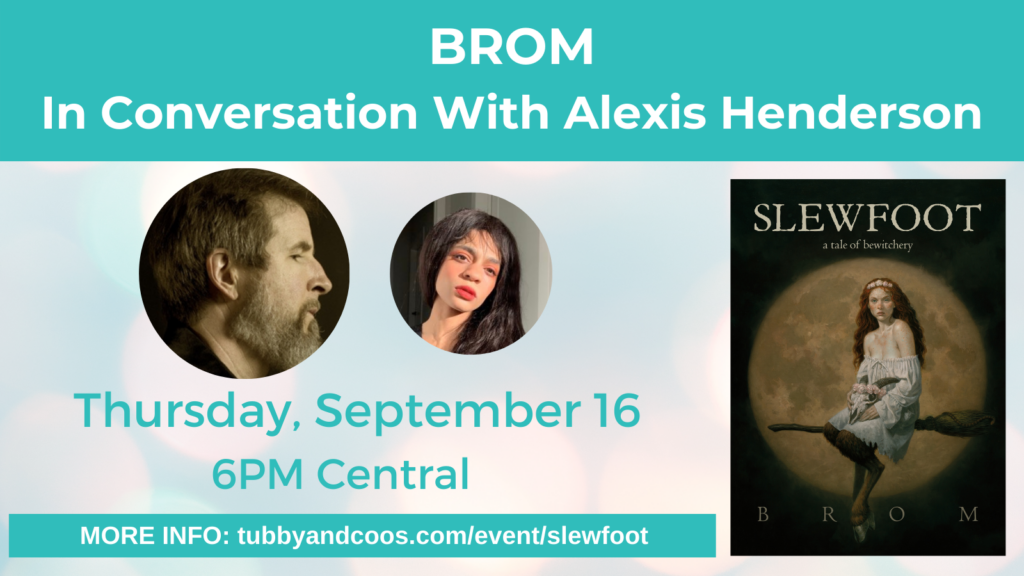 Join us on Thursday, September 16 at 6pm CT for a conversation between authors Brom and Alexis Henderson about Brom's new book, Slewfoot: A Tale of Bewitchery! This event will livestream to Facebook, YouTube, and our website homepage.
Order Books below!
ABOUT SLEWFOOT
Set in Colonial New England, Slewfoot is a tale of magic and mystery, of triumph and terror as only dark fantasist Brom can tell it.
Connecticut, 1666.
An ancient spirit awakens in a dark wood. The wildfolk call him Father, slayer, protector.
The colonists call him Slewfoot, demon, devil.
To Abitha, a recently widowed outcast, alone and vulnerable in her pious village, he is the only one she can turn to for help.
Together, they ignite a battle between pagan and Puritan – one that threatens to destroy the entire village, leaving nothing but ashes and bloodshed in their wake.
"If it is a devil you seek, then it is a devil you shall have "
This terrifying tale of bewitchery features more than two dozen of Brom's haunting paintings, fully immersing readers in this wild and unforgiving world.
ABOUT BROM
Over the past few decades, acclaimed dark fantasy artist Brom has lent his distinctive vision to all facets of the creative industries, from novels and games to comics and film. He is the author of The Child Thief, Krampus, The Lost Gods and the award-winning illustrated horror novels The Plucker and The Devil's Rose. Brom is currently kept in a dank cellar just outside of Seattle.
ABOUT ALEXIS HENDERSON
Alexis Henderson is a speculative fiction writer with a penchant for dark fantasy, witchcraft, and cosmic horror. She grew up in one of America's most haunted cities, Savannah, Georgia, which instilled in her a life-long love of ghost stories. Currently, Alexis resides in Columbus, Ohio, where she's learning to cope with the cold.
Order Books below!