When:
06/22/2021 @ 6:00 PM – 7:00 PM
2021-06-22T18:00:00-05:00
2021-06-22T19:00:00-05:00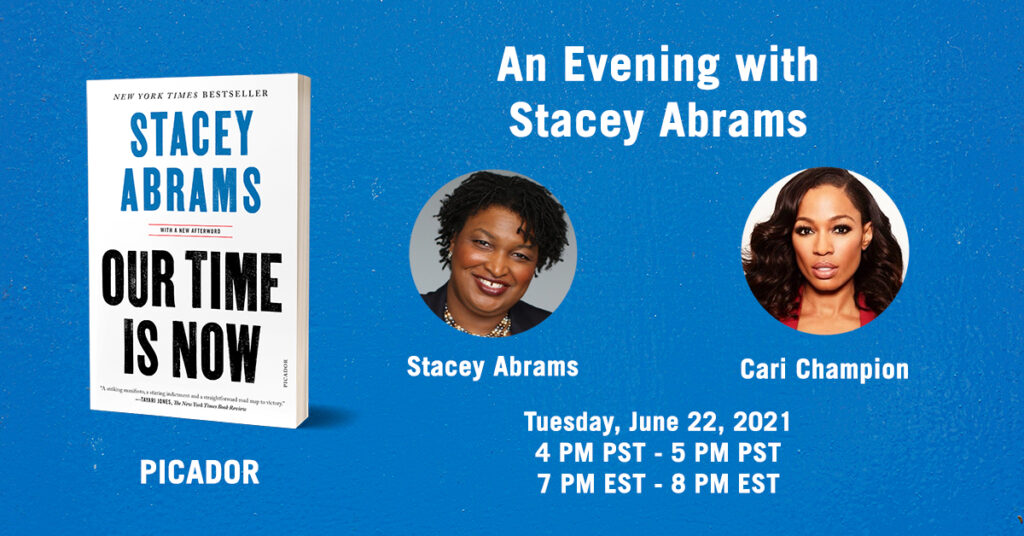 Picador is honored to present "An Evening with Stacey Abrams" to celebrate the paperback launch of the New York Times bestseller Our Time is Now. Stacey will be joined by Cari Champion on June 22 at 6 PM CT on Zoom Webinar to discuss the urgency of ending voter suppression and how we can empower citizens to use their power to shape the future. The conversation will be followed by moderated audience Q&A.
You must register to attend this event. Register by using the form below!
Get Tickets Below!
ABOUT OUR TIME IS NOW
A recognized expert on fair voting and civic engagement, Stacey Abrams chronicles a chilling account of how the right to vote and the principle of democracy have been and continue to be under attack. Abrams would have been the first African American woman governor, but experienced these effects firsthand, despite running the most innovative race in modern politics as the Democratic nominee in Georgia. Abrams didn't win, but she has not conceded. The book compellingly argues for the importance of robust voter protections, an elevation of identity politics, engagement in the census, and a return to moral international leadership.
Our Time Is Now draws on extensive research from national organizations and renowned scholars, as well as anecdotes from her life and others' who have fought throughout our country's history for the power to be heard. The stakes could not be higher. Here are concrete solutions and inspiration to stand up for who we are now.
ABOUT STACEY ABRAMS
Stacey Abrams is the New York Times bestselling author of Lead from the Outside, a serial entrepreneur, nonprofit CEO, and political leader. A tax attorney by training, she served eleven years in the Georgia House of Representatives, seven as Minority Leader, and Abrams became the 2018 Democratic nominee for Governor of Georgia, where she won more votes than any other Democrat in the state's history. She has launched multiple organizations devoted to voting rights, training and hiring young people of color, and tackling social issues at the state, national and international levels. Abrams is a lifetime member of the Council on Foreign Relations and the 2012 recipient of the John F. Kennedy New Frontier Award. Abrams received degrees from Spelman College, the LBJ School of Public Affairs at the University of Texas, and Yale Law School. She is the founder of the New Georgia Project, Fair Fight Action, Fair Fight 2020, Fair Count, and the Southern Economic Advancement Project.
ABOUT CARI CHAMPION
Cari Champion is a broadcast journalist and television personality based in Los Angeles. Champion made history with her move to Vice TV for her show "Cari & Jemele: Stick to Sports," along with co-host Jemele Hill, as the first Black women to host a late-night cable news and information show. Champion also currently hosts the "NFL Next Live" Thursday Night Football live stream for Amazon, TNT's studio show, "The Arena", and recently returned as co-host for Season 2 of NBC's reality competition series, "The Titan Games."Champion previously served as anchor and host at ESPN where she spent nearly a decade. She continues to break barriers, paving the way for younger women of color who want to pursue a career in sports television and other areas within broadcasting.
Get Tickets Below!
Register Here for a Free Ticket!
OR Get a Free Ticket with a Purchase of the Paperback of Our Time is Now!