The Adventure Zone Graphic Novel Live & Virtual!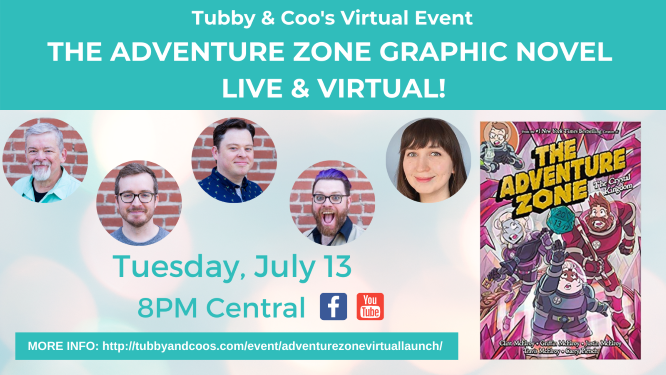 When:
07/13/2021 @ 8:00 PM – 9:00 PM
2021-07-13T20:00:00-05:00
2021-07-13T21:00:00-05:00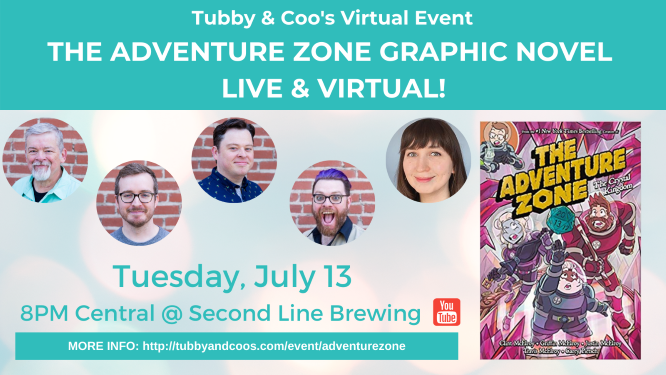 Join us at Second Line Brewing on Tuesday, July 13 at 8PM CT to watch the event live! 
Join Clint McElroy, Griffin McElroy, Justin McElroy, Travis McElroy, Carey Pietsch, and a few special guests (TBA) as they celebrate the release of the fourth graphic novel in The Adventure Zone Series, The Adventure Zone: The Crystal Kingdom. Chat with your fellow fans about this event on social using #TAZGNLive! Watch for free on our YouTube channel!
We have also partnered with our neighbor, Second Line Brewing, to show the event live in the beer garden! The event is free and will take place outside, and the brewery is family friendly, so come out and watch with us.
Purchase a copy of The Crystal Kingdom from Tubby & Coo's to receive a signed bookplate (signed by only one McElroy) AND a pack of exclusive trading cards! Limited quantities are available. Each bookplate will be signed by one McElroy. A small quantity of bookplates will also have Carey's signature. Requests for a specific bookplate can not be honored.
Please note that books and swag can only be shipped within the U.S. Packages will be shipped via USPS Priority Mail and should arrive within 1 week of the book launch event. If you live in the New Orleans area, feel free to choose "Local Pickup" during checkout, and you can pick your order up at the store when it's ready. 
Order Books below!
ABOUT THE CRYSTAL KINGDOM:
Based on the blockbuster podcast where the McElroy brothers and their dad play a tabletop RPG and illustrated by cartooning powerhouse Carey Pietsch, The Adventure Zone: The Crystal Kingdom takes this #1 New York Times bestselling series to haunting new heights.
A desperate call for help interrupts holiday celebrations at the Bureau of Balance, and sends Taako, Magnus and Merle on a high-stakes mission to find and Reclaim a fourth deadly relic: a powerful transmutation stone, hidden somewhere in the depths of a floating arcane laboratory that's home to the Doctors Maureen and Lucas Miller. An unknown menace has seized control of the stone, and is using it to transform the lab into a virulent pink crystal that spreads to everything it touches.
It's only a matter of time before this sparkling disaster crash-lands, but in order to find the stone and save the whole planet from being King Midased, our heroes will have to fight their way through a gauntlet of rowdy robots and crystal golems, decide whether they can trust the evasive Lucas Miller, and solve the mystery of what―or who―has put them all in peril, before there's no world left to save.
Order Books below!
**You must purchase a copy of The Crystal Kingdom in order to receive the signed bookplate and trading cards. Other Adventure Zone books are available for purchase, but ONLY a purchase of The Crystal Kingdom will get you the swag!**