When:
10/05/2021 @ 6:00 PM – 7:00 PM
2021-10-05T18:00:00-05:00
2021-10-05T19:00:00-05:00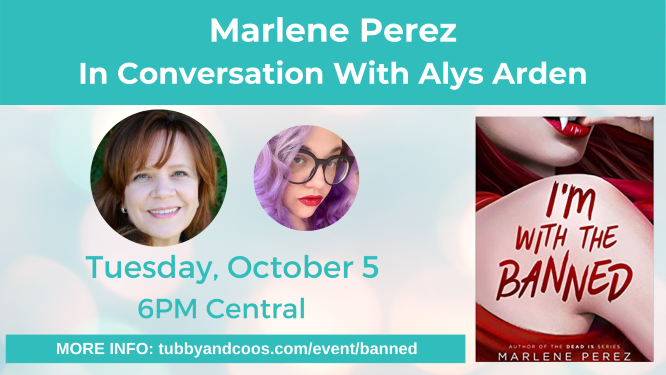 Join us on Tuesday, October 5 at 6pm CT as we launch Marlene Perez's new book, I'm With the Banned! Marlene will be in conversation with local acclaimed YA author Alys Arden. This event will livestream to Facebook and YouTube.
Order Books below!
ABOUT I'M WITH THE BANNED
The bestselling author of the Dead Is series is back with another snarky, hilarious vampire romance tale just in time for the vampire genre's resurgence!
The Afterlife series is best enjoyed in order.
ABOUT MARLENE PEREZ
Marlene Perez is the author of paranormal and urban fantasy books, including the best-selling DEAD IS series for teens. The first book in the series, DEAD IS THE NEW BLACK, was named an ALA Quick Pick for Reluctant Young Adult Readers as well as an ALA Popular Paperback. DEAD IS JUST A RUMOR was on VOYA's 2011 Best Science Fiction, Horror, & Fantasy List. Her novels have been featured in Girl's Life, Seventeen, and Cosmopolitan. She grew up in Story City, Iowa and is the youngest of twelve children. She lives in Orange County, California with her husband and children.
ABOUT ALYS ARDEN
Alys Arden was raised by the street performers, tea leaf-readers, and glittering drag queens of the New Orleans French Quarter. She cut her teeth on the streets of New York and has worked all around the world since. She either talks too much or not at all. She obsessively documents things. Her hair ranges from eggplant to cotton-candy colored. One dreary day in London, she missed home and started writing The Casquette Girls. Her debut novel garnered over one million reads online before it was acquired. (Skyscape) The fourth book, The Gates to Guinée, was released in 2020.
Her first graphic novel, Zatanna: The Jewel of Gravesend (DC Comics) illustrated by Jacquelin de Leon is due out in 2022.
We have SIGNED copies of all of Alys's books! Order below.
Order Books below!