When:
05/24/2022 @ 6:00 PM – 7:00 PM
2022-05-24T18:00:00-05:00
2022-05-24T19:00:00-05:00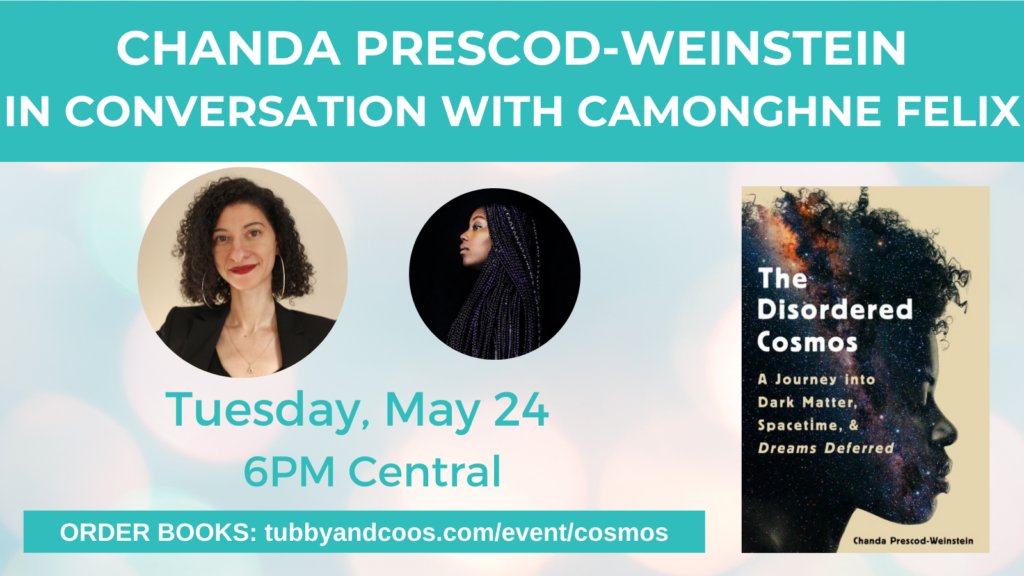 Tubby & Coos Mid-City Bookshop is pleased to present a virtual event with Chanda Prescod-Weinstein in conversation with Camonghne Felix to celebrate the paperback release of The Disordered Cosmos. This event will be held digitally via Crowdcast. 
You can register for this event by ordering The Disordered Cosmos below or you can click here to register with a donation of any amount of your choice. Donations are to help sustain our events programming. If you cannot afford to purchase the book or to donate even $1, you may register for the event for free, no questions asked, by e-mailing us at events@tubbyandcoos.com. There will also be the option to purchase the book during the event!
Please note Tubby & Coo's has a zero tolerance policy for harassment or intimidation of any kind during our events.
To Register: Order The Disordered Cosmos below, or click the "Register" button below!
About the Book & Panelists
ABOUT THE DISORDERED COSMOS

From a star theoretical physicist, a journey into the world of particle physics and the cosmos—and a call for a more liberatory practice of science.
A Finalist for the 2022 PEN/E.O. Wilson Literary Science Writing Award
A Finalist for the 2021 Los Angeles Times Book Prize in Science & Technology
A Smithsonian Magazine Best Science Book of 2021
A Symmetry Magazine Top 10 Physics Book of 2021
An Entropy Magazine Best Nonfiction Book of 2020-2021  
A Publishers Weekly Best Nonfiction Book of the Year
A Kirkus Reviews Best Nonfiction Book of 2021
A Booklist Top 10 Sci-Tech Book of the Year 
In The Disordered Cosmos, Dr. Chanda Prescod-Weinstein shares her love for physics, from the Standard Model of Particle Physics and what lies beyond it, to the physics of melanin in skin, to the latest theories of dark matter—along with a perspective informed by history, politics, and the wisdom of Star Trek. 
One of the leading physicists of her generation, Dr. Chanda Prescod-Weinstein is also one of fewer than one hundred Black American women to earn a PhD from a department of physics. Her vision of the cosmos is vibrant, buoyantly nontraditional, and grounded in Black and queer feminist lineages. 
Dr. Prescod-Weinstein urges us to recognize how science, like most fields, is rife with racism, misogyny, and other forms of oppression. She lays out a bold new approach to science and society, beginning with the belief that we all have a fundamental right to know and love the night sky. The Disordered Cosmos dreams into existence a world that allows everyone to experience and understand the wonders of the universe.
ABOUT CHANDA PRESCOD-WEINSTEIN

Chanda Prescod-Weinstein is an assistant professor of physics and astronomy and core faculty in women's and gender studies at the University of New Hampshire. She is also a columnist for New Scientist and Physics World. Her research in theoretical physics focuses on cosmology, neutron stars, and dark matter, and she is active in Black feminist science, technology, and society studies. Essence magazine recognized her as one of "15 Black Women Who Are Paving the Way in STEM and Breaking Barriers." She has been profiled in several venues, including TechCrunch, Ms. Magazine, Huffington Post, Gizmodo, Nylon, and the African American Intellectual History Society's Black Perspectives. A cofounder of the Particles for Justice movement, she has received the 2017 LGBT+ Physicists Acknowledgement of Excellence Award for her contributions to improving conditions for marginalized people in physics, as well as the 2021 American Physical Society Edward A. Bouchet Award for her contributions to particle cosmology.
ABOUT CAMONGHNE FELIX

Camonghne Felix, M.A. is a poet, a writer, speaker, and political strategist. She received an M.A. in Arts Politics from NYU, an MFA from Bard College, and has received Fellowships from Cave Canem, Callaloo, and Poets House. Camonghne was the Director of Surrogates & Strategic Communications at Elizabeth Warren for President. Her first full-length collection of poems, Build Yourself a Boat (Haymarket Books), was longlisted for the 2019 National Book Award for Poetry. Her debut was also a 2017 University of Wisconsin Press Brittingham and Pollak Prize finalist and a 2017 Fordham University Poets Out Loud semi-finalist. The author of the chapbook Yolk, she was recently listed by Black Youth Project as a "Black Girl From the Future You Should Know." Her books Let the Poets Govern, and Dyscalculia are forthcoming from Penguin Random House.
To Register: Order The Disordered Cosmos below, or click the "Register" button below!
Please note Tubby & Coo's has a zero tolerance policy for harassment or intimidation of any kind during our events.