When:
10/08/2020 @ 6:00 PM – 7:00 PM
2020-10-08T18:00:00-05:00
2020-10-08T19:00:00-05:00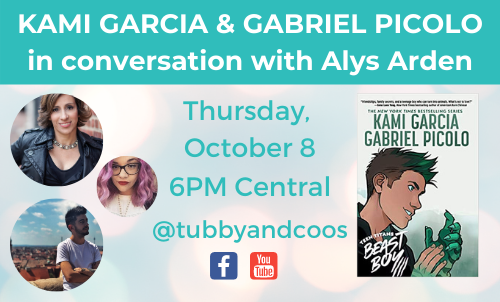 Join us on Thursday, Oct. 8 at 6PM Central as we host a conversation with Kami Garcia, Gabriel Picolo, and Alys Arden on Kami and Gabriel's newest DC Comics title Teen Titans: Beast Boy! Beast Boy is the follow up to Teen Titans: Raven.
Order Raven and Beast Boy below!
ABOUT BEAST BOY
Garfield Logan has spent his entire life being overlooked. Even in a small town like Eden, Georgia, the seventeen-year-old with green streaks in his hair can't find a way to stand out–and the clock is ticking. Senior year is almost over. If Gar doesn't find a way to impress the social elite at Bull Creek High School, he will never know what it's like to matter. Gar's best friends, Stella and Tank, can't understand why he cares what other people think, and they miss their funny, pizza-loving, video game-obsessed best friend.

Then Gar accepts a wild dare out of the blue. It impresses the popular kids, and his social status soars. But other things are changing, too. Gar grows six inches overnight. His voice drops, and suddenly, he's stronger and faster. He's finally getting everything he wanted, but his newfound popularity comes at a price. Gar has to work harder to impress his new friends. The dares keep getting bigger, and the stakes keep getting higher.

When Gar realizes the extent of his physical changes, he has to dig deep and face the truth about himself–and the people who truly matter–before his life spirals out of control.
ABOUT RAVEN
When a tragic accident takes the life of 17-year-old Raven Roth's foster mom–and Raven's memory–she moves to New Orleans to recover and finish her senior year of high school. Starting over isn't easy. Raven remembers everyday stuff like how to solve math equations and make pasta, but she can't remember her favorite song or who she was before the accident. And when impossible things start happening, Raven begins to think it might even be better not to know who she was before. But as she grows closer to her new friends, her foster sister, Max, and Tommy Torres, a guy who accepts her for who she is now, Raven has to decide if she's ready to face what's buried in the past…and the darkness building inside her.

From #1 New York Times bestselling author Kami Garcia and first-time graphic novel artist Gabriel Picolo comes this riveting tale of finding the strength to face who you are and learning to trust others–and yourself.
Order Raven and Beast Boy below!