Tubby & Coo's is Converting to a Traveling Book Shop!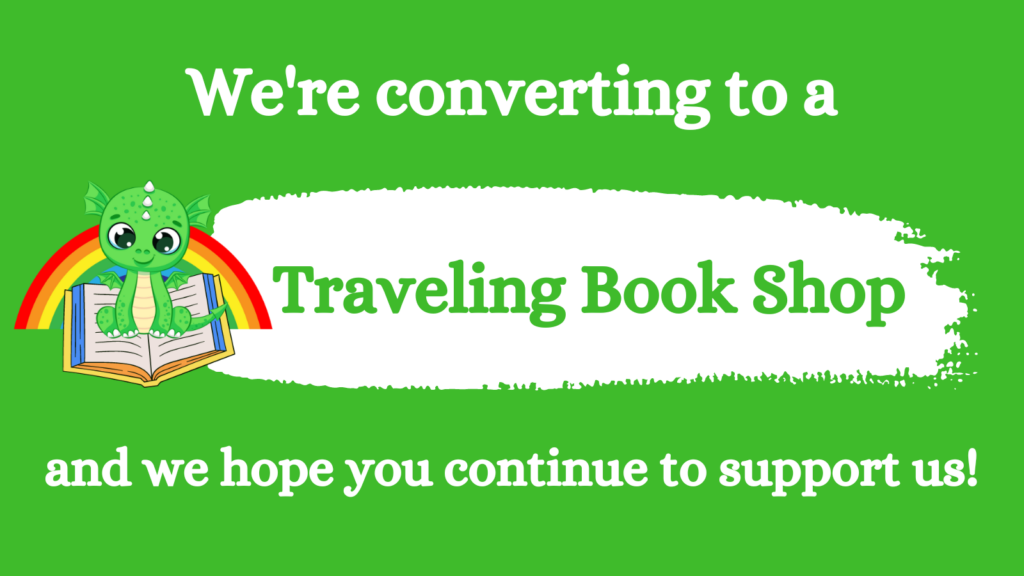 What is a Traveling Book Shop?
Like Sibling Dex in A Psalm for the Wild-Built or the roaming librarians in Upright Women Wanted, instead of having one permanent physical location where you must come to us, we will travel the city with our wares and bring the books to you! We want to make sure that folks across the area have access to queer books, especially during a time where so many are being challenged and banned and queer folks are politically under attack. We also want to bring our inclusive and safe environment everywhere we go! We've always been a mission-based store, and we will continue to be, with a small change. Our new mission is:
And our vision for the future is:
Our permanent location will cease to be after May 29 (Memorial Day), and we will begin traveling in June. We hope you will continue to take this journey with us!
We want to assure you that this is a mission-based decision, not a forced decision. The bookstore is doing well! We're not closing the bricks-and-mortar because we have to, we're doing it because we want to. Bringing books out to the community is something we're passionate about. We're closing the permanent location to better allow us to that and to save money for our ultimate goal: a bookmobile!
What Will Tubby & Coo's Look Like Going Forward?
Like the roaming merchants of old, we will pop up all around the city! We have established three permanent pop-up residencies:
Two of these residencies are in Mid-City within three blocks of our current location (Second Line Brewing & HI-BALLZ)! So we will be in Mid-City twice per month. And Virgin Hotels New Orleans is downtown. We're working on getting set up in the Bywater, Gentilly, Lakeview, and the Warehouse District as well. If you'd like to see Tubby & Coo's in your neighborhood, please let us know! Anyone can request us for an event by filling out our event request form.
Request Our Traveling Book Shop!
We will also hold other events throughout the city, including author talks and signings, special events (like Bookstore Romance Day, Indie Bookstore Day, and Small Business Saturday), boozy book fairs, and more. Here are some types of events we could do:
Grown-Up/Boozy Book Fairs
Bookstore Pop-Ups
Book Club Trunk Shows
Fundraisers
School Book Fairs
Author Signings & Events
Book Launch Parties
Bookish Date Nights
Specialty Events
Virtual Events
And more!
If you'd like to partner with Tubby & Coo's to produce an event, fill out our Event Request Form below, and we will respond to your request as soon as possible.
Keep an eye on our events calendar and make sure you're following us on social media to see where we'll be popping up!
What if I Have a Book Order I Haven't Picked Up?
We will be open at our current location during our regular business hours through May 29 (Memorial Day). After that, we will contact any customers who still have orders to be picked up and make arrangements. You can also pick up orders from any of our monthly pop-up book shop events or at one of our partner pickup locations (details below) beginning June 1!
Ordering Books for Shipping
We will maintain our Tubby & Coo's Bookshop.org affiliate site, and all orders for shipping should be placed there. This cuts down on shipping costs for us and for you, our lovely customers, and you will receive your orders much faster! We are also encouraging customers to place special orders via our Bookshop affiliate site as well, as you can order any available book, and you will receive your order more quickly.
Ordering Books for Pickup
Two of our new business partners have graciously agreed to act as pickup locations for book orders! Our Mid-City based customers can pick up orders at HI-BALLZ, located just three blocks away from Tubby & Coo's current location at 4901 Canal St., right at the corner of North Anthony and Canal. And if you work or live downtown, you can pick up orders at Virgin Hotels, located at 550 Baronne St.
Beginning June 1, you will be able to select a pickup location when placing a book order. We will deliver orders to our partner locations once per week, and we will inform you as soon as your order has been delivered to your pickup location. You can then pick up your order at the location you selected any time during their regular business hours!
HI-BALLZ is open from 12-8PM Tuesdays and Wednesdays and from 12PM-12AM Thursday through Saturday. They are closed Sunday and Monday.
Virgin Hotels is open 24 hours, 7 days a week as it is a hotel!
This means that customers will have much more available time to pick up orders than in the past! You can also pick up orders from any of our monthly pop-up book shop events.
Introducing Local Delivery in July!
One of our most popular services at the beginning of the pandemic was local delivery, and we're bringing back that service! If you prefer, we will deliver your order right to your door for a $5 fee. We plan to make deliveries once a week. This option will appear on our order form when we're ready. Stay tuned for more information!
Little Free Queer Libraries
We are also working on a plan to introduce Little Free Queer Libraries around town. If you or someone you know has an idea of a great place for a Little Free Queer Library, please let us know by filling out our interest form! 
We're working on a community program we're going to call "The Book Banned-Its" where we will offer a list of currently banned and challenged books that we will distribute to anyone in the community to distribute to family, friends, Little Free Libraries, community libraries, etc. Is this program directly inspired by the badass librarians of Upright Women Wanted? Of course, and we hope to make them proud. This program speaks to our mission of increasing access to queer books! This program will require folks to purchase books that we will then give away in the community. Stay tuned to our website and social media for more information, and we hope you become a Book Banned-It with us!
We are currently working on a plan to introduce book vending machines to queer-owned businesses as a way to increase access to queer books! If you or someone you know is a queer business owner and would be interested in exploring this option, please fill out our interest form and let us know.
A Little Queer Bookmobile
Our ultimate goal is to build out a Little Queer Bookmobile, which to take our traveling bookstore to the next level! Our dream is drive around in a rainbow bookmobile full of queer books to ensure that people in areas without a bookstore or a library can access books where they are represented. This, of course, will be a huge investment, so it is a bit farther down the road, but we think it would totally be worth it. Keep supporting us and help us get a Little Queer Bookmobile!
Sustaining Member Program
To recognize any of these future plans, we will of course need the resources! We can't do any of this without you, our loyal customers and community. So we are also in the process of setting up a Sustaining Member Program where you'll be able to not only help us keep doing what we're doing, but also help us realize these amazing future plans! Community investment in our mission is important to us, and by becoming a sustaining member, you'll get great perks and the potential to both curate collections for us and have input into certain business decisions. Stay tuned to our website and social media for more information and to hear when we announce our new program.
Tubby & Coo's Isn't Going Anywhere!
As you can see, we are NOT in any way disappearing! Like Pokémon, we are evolving. Leveling up. Doing our best to revolutionize bookselling. Being rebels. All the things we've always done best!
We hope you will stick with us along this journey, and that we pick up more folks along the way. The more we support each other in community, the stronger we become. The best way to face whatever comes next is together. We hope to travel and bring books to wherever you are for many years to come!