When:
10/27/2020 @ 6:00 PM – 7:00 PM
2020-10-27T18:00:00-05:00
2020-10-27T19:00:00-05:00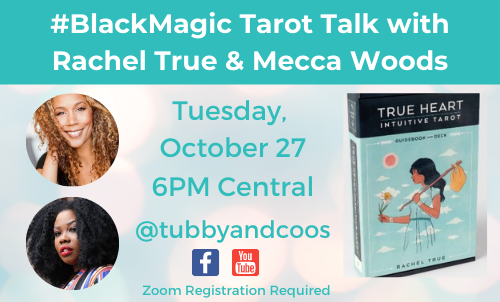 The year 2020 has been, and continues to be, a deeply introspective collective experience. If it seems like an ideal, deep-diving time to learn the art of reading tarot cards – or better refine your readings, if you already practice – we hope you join us and Bookshop for #BlackMagic: Tarot Talk with Q&A, with actress/tarot reader Rachel True (of the movie The Craft) and astrologer/activist Mecca Woods!

Join us Tuesday, October 27 at 6pm CT, with Q&A. Free with Zoom registration.

True will discuss with Woods how tarot can be used for self-examination and self-care and how awareness through divination like tarot can further connect to greater social good. Brew up your favorite tea or tincture, and find their books below! We hope to see you there.
Order Books below!
ABOUT RACHEL TRUE
Rachel True is an American actress who has appeared in many hit and cult films including The Craft, Half Baked, and Nowhere. She was nominated for an NAACP award for her work on the TV show Half & Half. A native New Yorker and an avid bibliophile, Rachel is a lifelong tarot practitioner and author of True Heart Intuitive Tarot book and deck. She lives with her two Siamese cats in Los Angeles.
True Heart Intuitive Tarot is an exquisite tarot card deck and guidebook boxed set, uniquely made following a beautiful, multicultural aesthetic. Rachel True's stance is that tarot cards don't predict the future, but rather suggest possible outcomes based on the reader's present energy. True's guidebook helps readers use the cards as she does: with an intuitive approach, rather than assigning one literal definition to each card. She shares personal stories from her experiences in Hollywood to explain how the cards can mean something different for each person, depending on their unique circumstances. This stunning deck and helpful guide will leave you feeling empowered and confident of your choices. 
ABOUT MECCA WOODS
Mecca Woods is a New York City-based astrologer and author who works to help others create a life they truly want using their natural-born gifts. Her writing and astro-guidance have appeared in places like Bustle, Essence, and on TLC. Her book, Astrology for Happiness and Success is out now.
Let your astrological sign show you the way to your best life, through specific activities based on your Zodiac sign. In Astrology for Happiness and Success, you'll find new ways to be happier, healthier, more successful, and not only learn to bring joy to those around you – but also grow through bringing deeper joy to yourself. 
Order Books below!