Charlie Jane Anders In Conversation With Felicia Day
When:
04/20/2021 @ 6:00 PM – 7:00 PM
2021-04-20T18:00:00-05:00
2021-04-20T19:00:00-05:00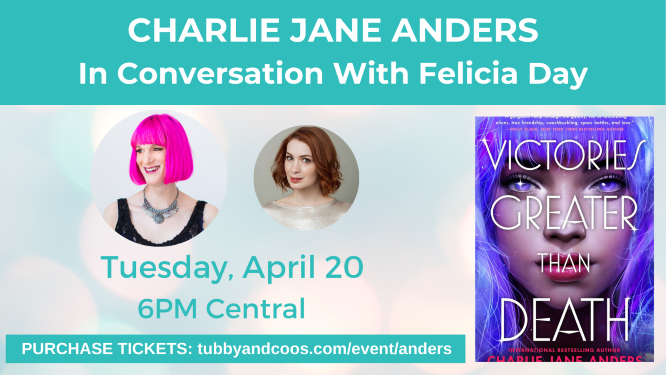 Join us on Tuesday, April 20 at 6pm CT as we host Charlie Jane Anders in conversation with Felicia Day about Victories Greater Than Death, Charlie Jane's newest book and her first YA novel!
All attendees will receive cool, exclusive swag related to the book! We have art prints and cool looking phone grips featuring the Joyful Wyvern, the Royal Fleet's mascot, saying WE GOT YOUR BACK available for attendees!
**You must purchase a copy of Victories Greater Than Death to attend this event. Purchase a copy here or click on the book cover below. Once your copy is purchased, you will be sent the link and password for the event.**
If you have already purchased a copy of the book and do not receive the link and password by the morning of the event on April 20, please e-mail events@tubbyandcoos.com and we will check your registration for the event.
About Victories Greater Than Death
Tina never worries about being 'ordinary' – she doesn't have to, since she's known practically forever that she's not just Tina Mains, average teenager and beloved daughter. She's also the keeper of an interplanetary rescue beacon, and one day soon, it's going to activate, and then her dreams of saving all the worlds and adventuring among the stars will finally be possible. Tina's legacy, after all, is intergalactic–she is the hidden clone of a famed alien hero, left on Earth disguised as a human to give the universe another chance to defeat a terrible evil.
But when the beacon activates, it turns out that Tina's destiny isn't quite what she expected. Things are far more dangerous than she ever assumed – and everyone in the galaxy is expecting her to actually be the brilliant tactician and legendary savior Captain Thaoh Argentian, but Tina….is just Tina. And the Royal Fleet is losing the war, badly – the starship that found her is on the run and they barely manage to escape Earth with the planet still intact.
Luckily, Tina is surrounded by a crew she can trust, and her best friend Rachel, and she is still determined to save all the worlds. But first she'll have to save herself.
Buckle up your seatbelt for this thrilling YA sci-fi adventure set against an intergalactic war from internationally bestselling author Charlie Jane Anders.
About Charlie Jane Anders
Charlie Jane Anders is the author of Victories Greater Than Death, the first book in the young-adult Unstoppable trilogy, along with the short story collection Even Greater Mistakes. Her other books include The City in the Middle of the Night and All the Birds in the Sky. Her fiction and journalism have appeared in The New York Times, The Washington Post, Slate, McSweeney's, Mother Jones, the Boston Review, Tor.com, Tin House, Conjunctions, Wired Magazine, and other places. Her TED Talk, "Go Ahead, Dream About the Future" got 700,000 views in its first week. With Annalee Newitz, she co-hosts the podcast Our Opinions Are Correct.
About Felicia Day
Felicia Day is a professional actress who has appeared in numerous television shows and films, including "Supernatural" on the CW, "The Magicians" on SyFy, and "Mystery Science Theater 3000" on Netflix. Felicia is best known for her work in the web video world, behind and in front of the camera. She co-starred in Joss Whedon's Internet musical "Dr. Horrible's Sing-Along Blog," which was ranked in the "Top 10 Best TV of 2008" by Time Magazine, Entertainment Weekly and People Magazine and won an Emmy in 2009. She also created and starred in the seminal web series "The Guild," which ran for six seasons. She is also the author of The Guild comic series, the memoir You're Never Weird On the Internet (Almost) and the guided journal Embrace Your Weird.