When:
09/03/2020 @ 6:00 PM – 7:00 PM
2020-09-03T18:00:00-05:00
2020-09-03T19:00:00-05:00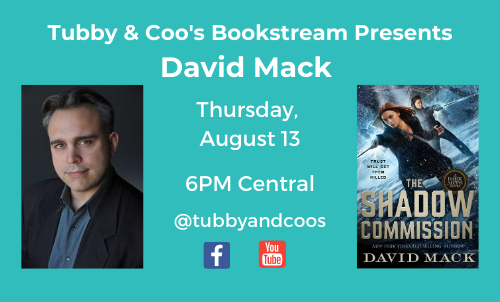 Join us on Thursday, August 13 at 6PM Central as we discuss the Dark Arts series with author David Mack. The Dark Arts series began with Midnight Front, and The Shadow Commission is the third book in the series.
Watch our Bookstream on our home page, Facebook, or YouTube.
Order books below! 
ABOUT THE SHADOW COMMISSION
The wizards of the Cold War must uncover a secret cabal responsible for the Kennedy assassination in The Shadow Commission, New York Times bestselling author David Mack's globe-spanning historical fantasy sequel to The Iron Codex. 
November 1963. Cade and Anja have lived in hiding for a decade, training new mages. Then the assassination of President Kennedy trigger a series of murders whose victims are all magicians—with Cade, Anja, and their allies as its prime targets. Their only hope of survival: learning how to fight back against the sinister cabal known as the Shadow Commission.
ABOUT DAVID MACK
David Mack is the New York Times bestselling author of more than twenty-five novels, including the Star Trek Destiny and Cold Equations trilogies. He co-developed the acclaimed Star Trek Vanguard series and its sequel, Star Trek: Seekers. His writing credits span several media, including television (Star Trek: Deep Space Nine), film, short fiction, magazines, comic books, computer games, and live theater. He currently resides in New York City. You can find him online at davidmack.pro, on Facebook as @TheDavidMack and on Twitter as @DavidAlanMack.