When:
06/27/2022 @ 7:00 PM – 8:00 PM
2022-06-27T19:00:00-05:00
2022-06-27T20:00:00-05:00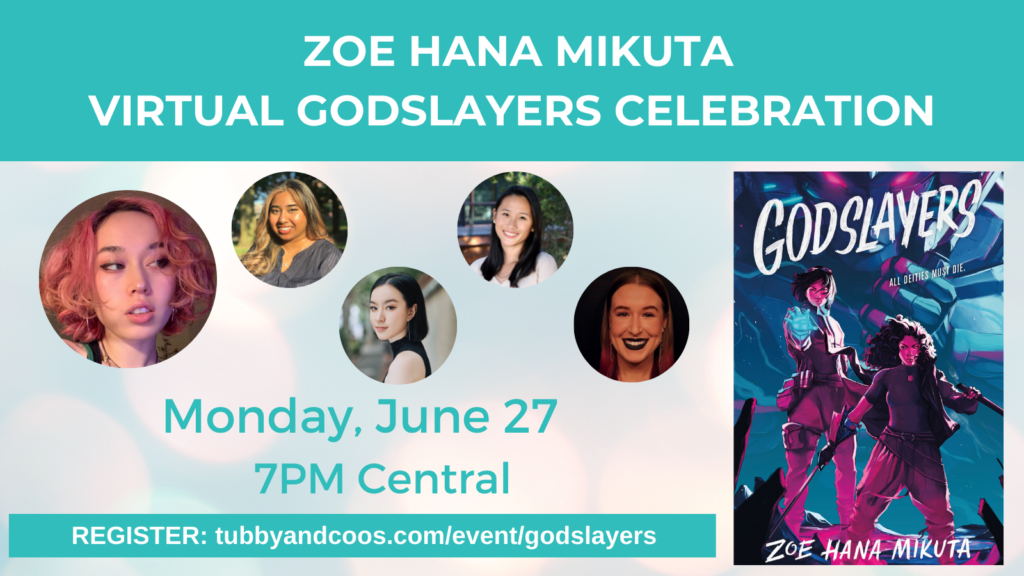 Tubby & Coo's Mid-City Bookshop is pleased to present a virtual panel event to celebrate the release of Zoe Hana Mikuta's Godslayers, featuring Tashie Bhuiyan, Chloe Gong, Christina Li, and Racquel Marie. This event will be held digitally via Crowdcast.
You can register for this event by ordering Godslayers below or you can click here to register with a donation of any amount of your choice. Donations are to help sustain our events programming. If you cannot afford to purchase the book or to donate even $1, you may register for the event for free, no questions asked, by e-mailing us at events@tubbyandcoos.com. There will also be the option to purchase the book during the event!
Please note Tubby & Coo's has a zero tolerance policy for harassment or intimidation of any kind during our events.
To Register: Order Godslayers below, or click the "Register" button below!
About the Book & Panelists
ABOUT GODSLAYERS

Godslayers—Zoe Hana Mikuta's high-octane sequel to Gearbreakers—is perfect for fans of Pacific Rim, Pierce Brown's Red Rising Saga, and Marie Lu's Legend series.

The only way to kill a god is from the inside…
The Gearbreakers struck a devastating blow against Godolia on Heavensday, but the cost of victory has been steep. Months later, the few rebels who've managed to escape the tyrannical empire's bloody retribution have fled to the mountains, hunted by the last Zenith—Godolia's only surviving leader.
Eris has been held prisoner since the attack on the capital city, which almost killed her. And she begins to wish it had when she discovers Sona—the girl she loves, the girl she would tear down cities for—also survived, only to be captured and corrupted by the Zenith. The cybernetic brainwashing that Sona has forcibly undergone now has her believing herself a loyal soldier for Godolia, and Eris' mortal enemy.
With the rebellion shattered and Godolia moving forward with an insidious plan to begin inducting Badlands children into a new Windup Pilot program, the odds have never been more stacked against the Gearbreakers. Their last hope for victory will depend on whether Eris and Sona can somehow find their way back to each other from opposite sides of a war…
ABOUT ZOE HANA MIKUTA

Zoe Hana Mikuta currently attends the University of Washington in Seattle, studying English with a creative writing focus. She grew up in Boulder, Colorado, where she developed a deep love of Muay Thai kickboxing and nurtured a slow and steady infatuation for fictional worlds. When she is not writing, Zoe can be found embroidering runes onto her jean pockets, studying tarot or herbology, or curled up with a cup of caramel coffee and a good, bloody but heartwarming book. She is the author of the Gearbreakers duology (Gearbreakers and Godslayers).
ABOUT TASHIE BHUIYAN

Tashie Bhuiyan is the author of Counting Down with You, and a New Yorker through and through. She recently graduated with a bachelor's degree in Public Relations, and hopes to change the world, one book at a time. She loves writing stories about girls with wild hearts, boys who wear rings, and gaining agency through growth. When she's not doing that, she can be found in a Chipotle or bookstore, insisting 2010 is the best year in cinematic history. (Read: Tangled and Inception.)
ABOUT CHLOE GONG

Chloe Gong is the #1 New York Times bestselling author of These Violent Delights and its sequel Our Violent Ends. She is a recent graduate of the University of Pennsylvania, where she double-majored in English and International Relations. Born in Shanghai and raised in Auckland, New Zealand, Chloe is now located in New York pretending to be a real adult. You can find her on Twitter, Instagram, and TikTok under @thechloegong.

ABOUT CHRISTINA LI

Christina Li is a kidlit author who grew up in the Midwest and now resides in California. She is the author of the middle grade novel Clues to the Universe, with a YA novel, True Love and Other Impossible Odds, forthcoming from Quill Tree Books in 2024.
ABOUT RACQUEL MARIE

Racquel Marie received a BA in English with an emphasis in creative writing and a minor in gender and sexuality studies from the University of California, Irvine. You can learn more about her writing and love of books through her Twitter, @blondewithab00k. Ophelia After All is her first novel.
To Register: Order Godslayers below, or click the "Register" button below!
Please note Tubby & Coo's has a zero tolerance policy for harassment or intimidation of any kind during our events.