When:
05/01/2021 @ 3:00 PM – 4:00 PM
2021-05-01T15:00:00-05:00
2021-05-01T16:00:00-05:00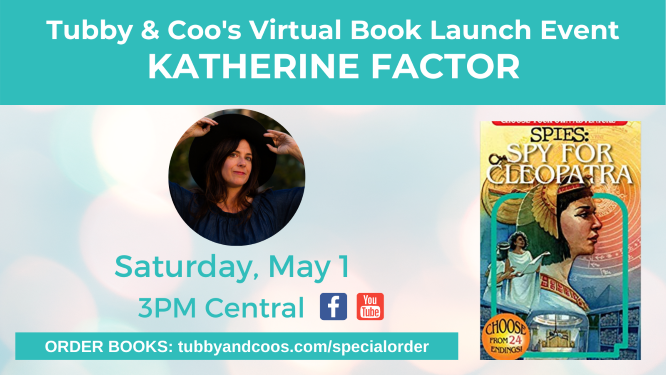 Join us on Saturday, May 1 at 3pm CT as we host Katherine Factor to discuss her newest Choose Your Own Adventure book, Spy For Cleopatra. This event will livestream to Facebook, YouTube, and our website homepage.
Order the book below!
ABOUT CHOOSE YOUR OWN ADVENTURE SPIES: SPY FOR CLEOPATRA
Choose Your Own Adventure SPIES: Spy for Cleopatra takes YOU to ancient Egypt where you're faced with a mission larger than any ancient pyramid! You must save the Great Library of Alexandria, help at the Pharos Lighthouse, stop Caesar and his takeover, travel the Nile River, visit Rome, and explore the mysteries of Egyptian mythology and pyramids―all without becoming lost in time― or worse, mummified! 9-12 year old readers travel back in time to try and change history and must choose what happens next in the story. Choose Your Own Adventure SPIES: Spy for Cleopatra is an interactive adventure book in which YOU decide what happens next. It is circa 400 A.D. and you are a young person living in ancient Egypt. You are studying with the powerful philosopher and mathematician, Hypatia. Hypatia's formulas and inventions will change the course of history, but she can't let go of an event from the past. She needs you to travel back in time to the age of Cleopatra in order to change history so the Library of Alexandria can be saved from destruction by fire. Can you do what's needed to preserve the world's most important knowledge?
ABOUT KATHERINE FACTOR
Katherine Factor is a writer, editor, and educator. She has mentored young writers for decades, having taught at Idyllwild Arts Academy, Interlochen Arts Academy, and in summer programs. A graduate of the Iowa Writers' Workshop, she is a recipient of an Iowa Arts Council grant and residencies at the Vermont Studio Center and Squaw Valley Community of Writers. Her manuscript, A Sybil Society, was a semi-finalist in the Cleveland State University first book prize in 2017. Her poems and audio work can be found at Interim, The Conversant, Quarterly West, Poets for Living Waters, The Equalizer, DIAGRAM, Colorado Review, Coldfront's Poets off Poetry, and on textsound.org and soundcloud. Awe, music, travel, and ancient cultures inspire her work—a likely outcome of avidly reading Choose Your Own Adventure books.
Order the book below!