When:
09/08/2021 @ 7:00 PM – 8:00 PM
2021-09-08T19:00:00-05:00
2021-09-08T20:00:00-05:00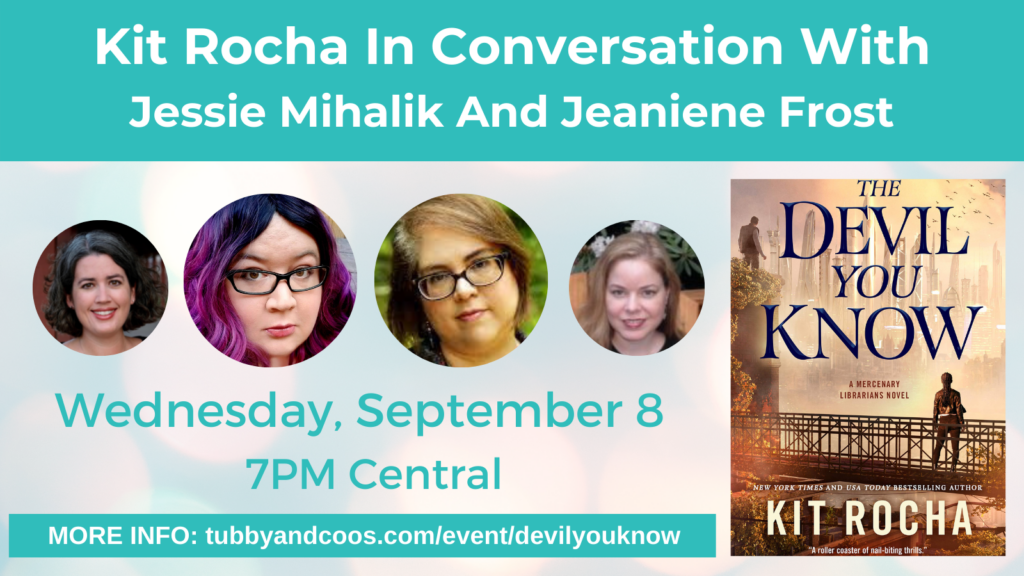 Join us on Wednesday, September 8 at 7pm CT for a conversation between authors Kit Rocha, Jessie Mihalik, and Jeaniene Frost about Kit Rocha's new book, The Devil You Know! This event will livestream to Facebook, YouTube, and our website homepage.
Preorder a copy of The Devil You Know from Tubby & Coo's and receive Maya's necklace from the book, handmade by Kit Rocha, and Mercenary Librarians swag!
Order Books below!
ABOUT THE DEVIL YOU KNOW
The Mercenary Librarians and the Silver Devils are back in The Devil You Know, the next installment of USA Today and New York Times bestselling author Kit Rocha's post-apocalyptic Action/Romance, with hints of Orphan Black and the Avengers.
Maya has had a price on her head from the day she escaped the TechCorps. Genetically engineered for genius and trained for revolution, there's only one thing she can't do–forget.
Gray has finally broken free of the Protectorate, but he can't escape the time bomb in his head. His body is rejecting his modifications, and his months are numbered.
When Maya's team uncovers an operation trading in genetically enhanced children, she'll do anything to stop them. Even risk falling back into the hands of the TechCorps.
And Gray has found a purpose for his final days: keeping Maya safe.
ABOUT KIT ROCHA
Kit Rocha is the pseudonym for the New York Times and USA Today bestselling author duo Donna Herren (@totallydonna) and Bree Bridges (@mostlybree). They are best known for their gritty and sexy dystopian BEYOND series, and were the first indie authors to receive a Romantic Times Reviewers' Choice Award. They currently live three miles apart in Alabama and spend their non-writing time caring for a menagerie of animals and crafting handmade jewelry, all of which is chronicled on their various social media accounts.
ABOUT JESSIE MIHALIK
Jessie Mihalik has a degree in computer science and a love of all things geeky. A software engineer by trade, Jessie now writes full time from her home in Texas. When she's not writing, she can be found playing co-op video games with her husband, trying out new board games, or reading books pulled from her overflowing bookshelves. Polaris Rising is her debut novel.
ABOUT JEANIENE FROST
Jeaniene Frost is a New York Times and USA Today bestselling author of paranormal romance and urban fantasy. Her works include the Night Huntress series, the Night Prince series, the Broken Destiny series, and the new Night Rebel series. Jeaniene's novels have also appeared on the Publishers Weekly, Wall Street Journal, ABA Indiebound, and international bestseller lists. Foreign rights for Jeaniene's novels have sold to twenty different countries. Jeaniene lives in Florida with her husband Matthew, who long ago accepted that she rarely cooks and always sleeps in on the weekends. In addition to being a writer, Jeaniene also enjoys reading, writing, poetry, watching movies, exploring old cemeteries, spelunking, and traveling – by car. Airplanes, children, and cook books frighten her. 
Order Books below!