Freya Marske In Conversation With Casey McQuiston and Hannah Whitten
When:
11/04/2021 @ 6:00 PM – 7:00 PM
America/Chicago Timezone
2021-11-04T18:00:00-05:00
2021-11-04T19:00:00-05:00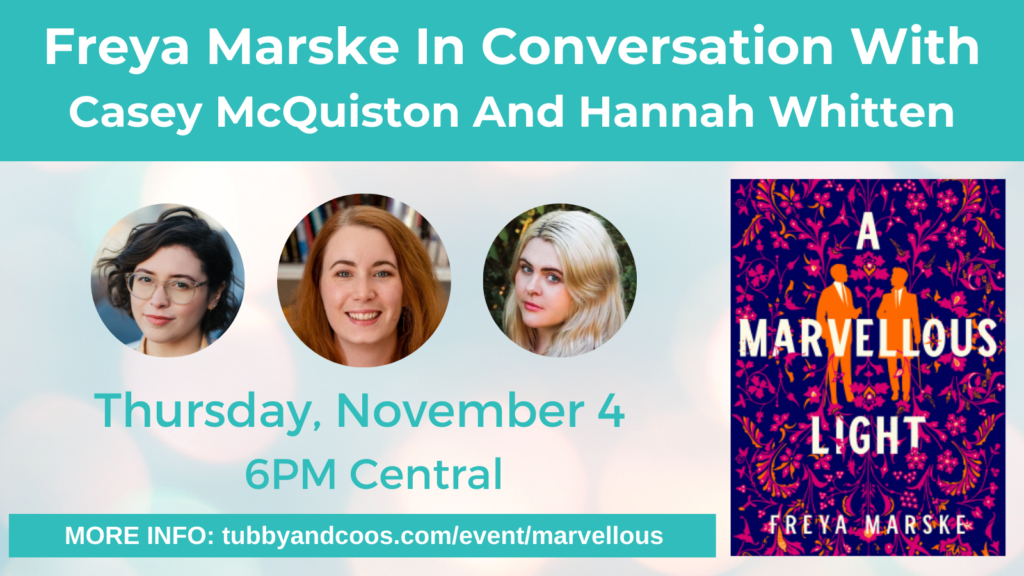 Join us on Thursday, November 4 at 6pm CT for a conversation between authors Freya Marske, Casey McQuiston, and Hannah Whitten about Freya's new book, A Marvellous Light! This event will livestream to Facebook and YouTube.
Order Books below!
ABOUT A MARVELLOUS LIGHT
Robin Blyth has more than enough bother in his life. He's struggling to be a good older brother, a responsible employer, and the harried baronet of a seat gutted by his late parents' excesses. When an administrative mistake sees him named the civil service liaison to a hidden magical society, he discovers what's been operating beneath the unextraordinary reality he's always known.
Now Robin must contend with the beauty and danger of magic, an excruciating deadly curse, and the alarming visions of the future that come with it–not to mention Edwin Courcey, his cold and prickly counterpart in the magical bureaucracy, who clearly wishes Robin were anyone and anywhere else.
Robin's predecessor has disappeared, and the mystery of what happened to him reveals unsettling truths about the very oldest stories they've been told about the land they live on and what binds it. Thrown together and facing unexpected dangers, Robin and Edwin discover a plot that threatens every magician in the British Isles–and a secret that more than one person has already died to keep.
ABOUT FREYA MARSKE
Freya Marske, author of A Marvellous Light, is one of the co-hosts of Be the Serpent, a Hugo Award-nominated podcast about SFF, fandom, and literary tropes, and her work has sold to Analog and been shortlisted for Best Fantasy Short Story in the Aurealis Awards. She lives in Australia.
ABOUT CASEY MCQUISTON
Casey McQuiston is the New York Times bestselling author of One Last Stop and Red, White & Royal Blue, as well as a pie enthusiast. Born and raised in southern Louisiana, Casey now lives in New York City with Pepper, a poodle mix and semipro personal assistant.
ABOUT HANNAH WHITTEN
Hannah Whitten has been writing to amuse herself since she could hold a pen, and sometime in high school, figured out that what amused her might also amuse others. When she's not writing, she's reading, making music, or attempting to bake. She lives in an old farmhouse in Tennessee with her husband, children, two cats, a dog, and probably some ghosts. 
Order Books below!