Jessica S. Olson In Conversation With Erin A. Craig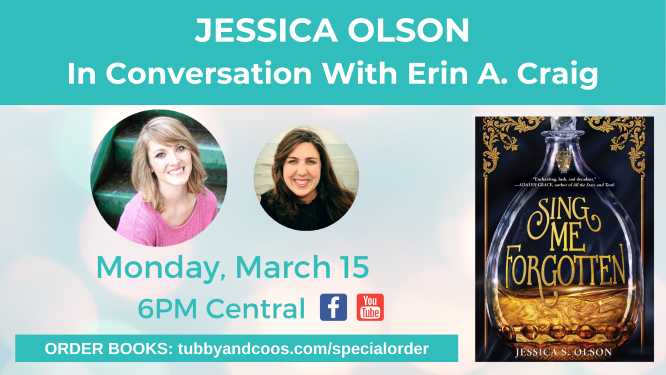 When:
03/15/2021 @ 6:00 PM – 7:00 PM
America/Chicago Timezone
2021-03-15T18:00:00-05:00
2021-03-15T19:00:00-05:00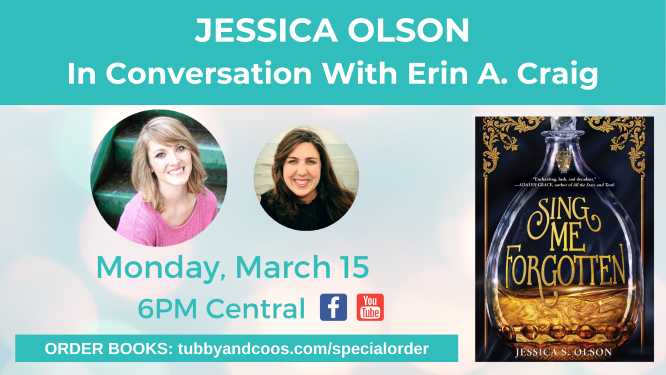 Join us on Monday, March 15 at 6pm CT for a conversation between authors Jessica S. Olson and Erin A. Craig about Jessica's new novel, Sing Me Forgotten! This event will livestream to Facebook, YouTube, and our website homepage.
The first 20 book orders will receive signed bookplates from Jessica!
Order Books below!
ABOUT SING ME FORGOTTEN
Isda does not exist. At least not beyond the opulent walls of the opera house.
Cast into a well at birth for being one of the magical few who can manipulate memories when people sing, she was saved by Cyril, the opera house's owner. Since that day, he has given her sanctuary from the murderous world outside. All he asks in return is that she use her power to keep ticket sales high–and that she stay out of sight. For if anyone discovers she survived, Isda and Cyril would pay with their lives.
But Isda breaks Cyril's cardinal rule when she meets Emeric Rodin, a charming boy who throws her quiet, solitary life out of balance. His voice is unlike any she's ever heard, but the real shock comes when she finds in his memories hints of a way to finally break free of her gilded prison.
Haunted by this possibility, Isda spends more and more time with Emeric, searching for answers in his music and his past. But the price of freedom is steeper than Isda could ever know. For even as she struggles with her growing feelings for Emeric, she learns that in order to take charge of her own destiny, she must become the monster the world tried to drown in the first place.
ABOUT JESSICA S. OLSON
Jessica S. Olson claims New Hampshire as her home, but has somehow found herself in Texas, where she spends most of her time singing praises to the inventor of the air conditioner. When she's not hiding from the heat, she's corralling her three wild–but adorable–children, dreaming up stories about kissing and murder and magic, and eating peanut butter by the spoonful straight from the jar.
ABOUT ERIN A. CRAIG
Erin A. Craig has always loved telling stories. After getting her BFA in Theatre Design and Production from the University of Michigan, she stage managed tragic operas filled with hunchbacks, séances, and murderous clowns, then decided she wanted to write books that were just as spooky. An avid reader, decent quilter, rabid basketball fan, and collector of typewriters, Erin makes her home in Memphis with her husband and daughter.
Order Books below!