When:
12/09/2021 @ 6:00 PM – 7:00 PM
2021-12-09T18:00:00-06:00
2021-12-09T19:00:00-06:00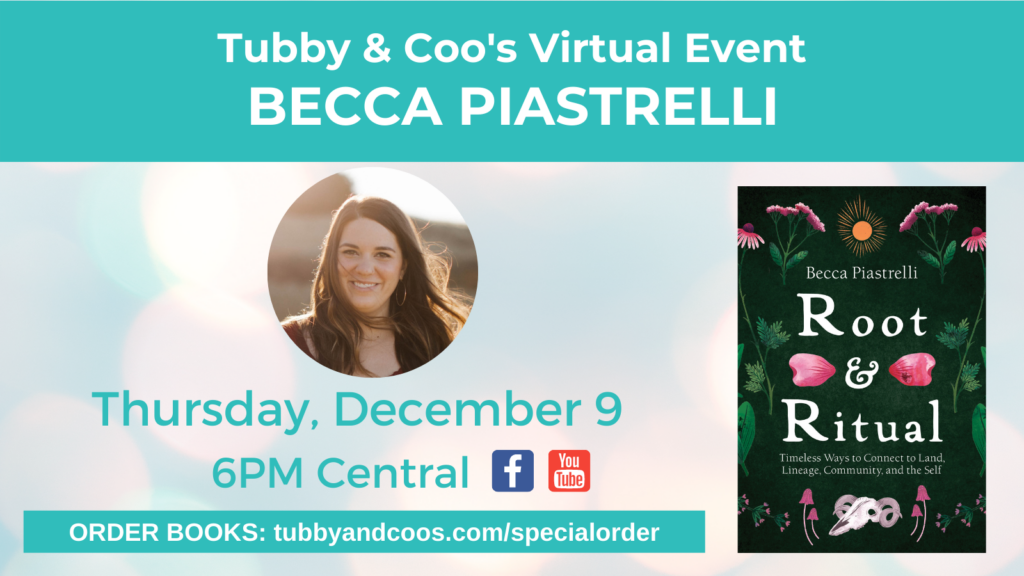 Join us on Thursday, December 9 at 6pm CT as we host author Becca Piastrelli to discuss her new book, Root and Ritual: Timeless Ways to Connect to Land, Lineage, Community, and the Self. This event will livestream to Facebook and YouTube.
Order the book below!
ABOUT ROOT AND RITUAL
Despite our best efforts, our modern world leaves so many of us feeling isolated, unworthy, and alone. We're unrooted from the land, untethered from our lineages, disconnected from our communities, and separated from our deepest sense of self.
In Root and Ritual, Becca Piastrelli offers a pathway back to connection and wholeness through rituals, recipes, and ancestral wisdom. "Though we live in a radically different-looking world, the needs of our bodies and spirits are the same as the ancestors we came from."
A rich and dynamic treasure chest of timeless teachings, Root and Ritual is a beautiful guide for knowing who you are―and that you belong here.
ABOUT BECCA PIASTRELLI
Becca Piastrelli writes about her life experiences, facilitates women's gatherings both virtually and in person, and is the host of the Belonging podcast. She teaches and speaks on the nature of belonging and runs retreats to help women reconnect with their rooted sense of self. She lives in the San Francisco Bay Area with her husband, child, two cats, and five chickens, where she gardens, cooks, mothers, and gathers with the ebb and flow of the seasons. You can learn more about her at beccapiastrelli.com.
Order the book below!