When:
12/02/2021 @ 7:00 PM – 8:00 PM
2021-12-02T19:00:00-06:00
2021-12-02T20:00:00-06:00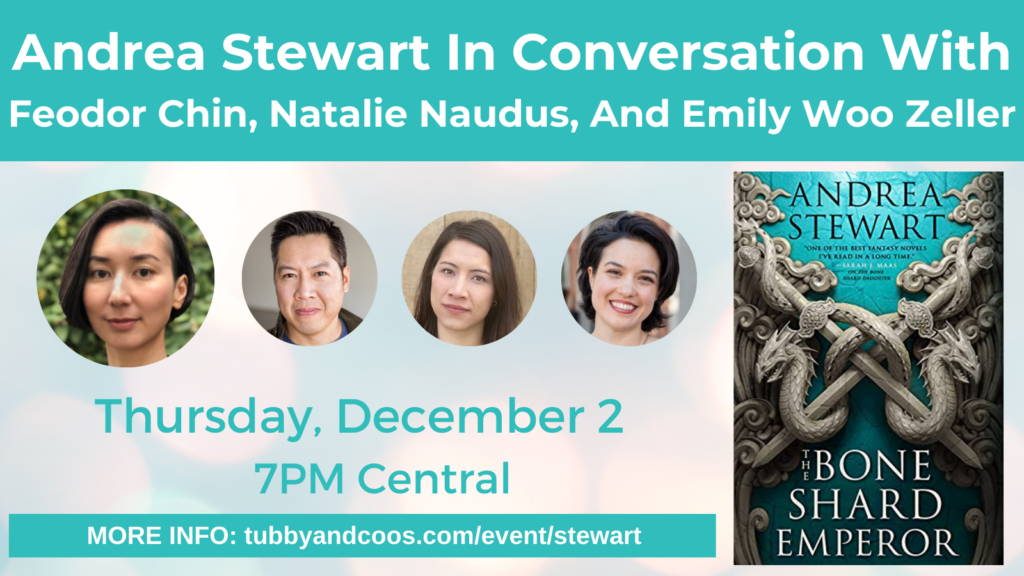 Join us on Thursday, December 2 at 7pm CT for a conversation between author Andrea Stewart and audiobook narrators Feodor Chin, Natalie Naudus, and Emily Woo Zeller about Andrea's new book, The Bone Shard Emperor. This event will livestream to Facebook and YouTube.
Order Books below!
ABOUT THE BONE SHARD EMPEROR
The Emperor is Dead. Long live the Emperor.
Lin Sukai finally sits on the throne she won at so much cost, but her struggles are only just beginning. Her people don't trust her. Her political alliances are weak. And in the north-east of the Empire, a rebel army of constructs is gathering, its leader determined to take the throne by force.
Yet an even greater threat is on the horizon, for the Alanga-the powerful magicians of legend-have returned to the Empire. They claim they come in peace, and Lin will need their help in order to defeat the rebels and restore peace.
But can she trust them?
ABOUT ANDREA STEWART
Andrea Stewart is the daughter of immigrants, and was raised in a number of places across the United States. Her parents always emphasized science and education, so she spent her childhood immersed in Star Trek and odd-smelling library books. When her (admittedly ambitious) dreams of becoming a dragon slayer didn't pan out, she instead turned to writing books. She now lives in sunny California, and in addition to writing, can be found herding cats, looking at birds, and falling down research rabbit holes.
ABOUT FEODOR CHIN
Feodor Chin is an LA-based actor, writer, comedian, and producer. As an actor, he was classically trained at UCLA, the American Conservatory Theater, and has studied with renowned acting coach, Larry Moss. He was a performer on the Upright Citizens Brigade Theater's Maude Night. TV credits include BIG LITTLE LIES, GOOD TROUBLE, JANE THE VIRGIN, THE AFFAIR, and Cartoon Network's REGULAR SHOW. He has won multiple Earphones Awards and the SOVAS Award for his audiobook narration. He is also the voice of Zenyatta and Lee Sin in the hit video games Overwatch and League of Legends. 
ABOUT NATALIE NAUDUS
Natalie Naudus is an award winning audiobook narrator of over 300 titles, known for her passionate storytelling, and silly antics on TikTok and Instagram. She started her career as an opera singer, and has a Masters of Music from the University of North Texas. She records from a mountaintop in Virginia where she lives with her husband and two daughters. 
ABOUT EMILY WOO ZELLER
Emily Woo Zeller has worked for over three decades as a voiceover artist, dancer, singer, actor, and producer. Named a Golden Voice and a Best Voice of 2019, 2018, 2015, and 2013 by Audiofile Magazine, Emily Woo Zeller has garnered many awards in her voiceover career, including an Audie; Best Female Narrator from the Independent Audiobook Awards; multiple SOVAS awards; and two dozen Earphones Awards. In addition to a wide range of narration and over 500 audiobook titles, Ms. Woo Zeller works in video games, most recent notable games including Cyberpunk 2077 as Panam and The Last of Us Part 2. She has also dubbed for dozens of anime series. In audio drama, Emily recently performed as Doctor Aphra in Star Wars, and the narrator in PASSABLE IN PINK.
Order Books below!