10 SFF Books Written by Women of Color That Will Change Your Worldview Completely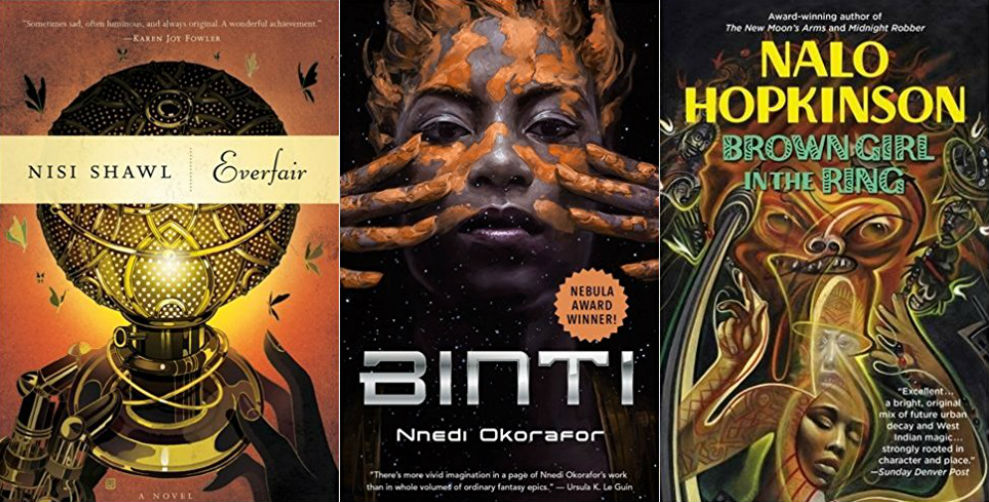 All too often, we don't get to see books written by women of color. They exist; they've always existed, but most of the time, they remain hidden behind a wall of white male stories, especially in science fiction and fantasy (although it's getting better). Mainstream awards have gotten better about representation, but more often than not, the big awards still go to men, and white men still dominate the genre fiction industry. The funny thing about that is women of color are writing mind blowing, world changing, innovative books. If you're looking to expand your horizons, here are our recommendations.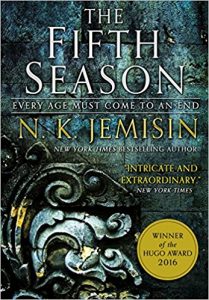 The Fifth Season by N.K. Jemisin
The first novel of the Broken Earth trilogy follows three women: Essun, Syenite, and Damaya, each at a different age, each on their own journey at the end of the world. Jemisin is a master of worldbuilding and plotting, and she weaves these stories from "The Stillness" expertly as the apocalypse hangs in the balance. This book won the Hugo Award for Best Novel in 2016 for good reason. This is a must read and one of our favorite books of all time. (Fun fact: The second book in the series, The Obelisk Gate, also won the Hugo Award for Best Novel!)
You may know Nisi Shawl as an acclaimed writer of short stories. She also teaches about the intersections of speculative fiction and social justice, including race, colonialism, sexuality, gender, and more. Everfair is her debut novel, and it is a steampunk masterpiece that manages to turn one of the worst human rights disasters on record into a marvelous and exciting exploration of the possibilities inherent in a turn of history in a compelling range of voices that have historically been silenced. Everfair is not only a beautiful book, but an educational and inspiring one that will give the reader new insight into an often ignored period of history.
We know it isn't fair to put only ONE of Octavia Butler's books on this list, because really, you should read everything she's ever written. But, Kindred is a great place to start. In this compelling time-jumping story, a modern black woman by the name of Dana is celebrating her twenty-sixth birthday with her new husband when she is snatched abruptly from her home in California and transported to the antebellum South. Dana is drawn back repeatedly through time to the slave quarters, and each time the stay grows longer, more arduous, and more dangerous until it is uncertain whether or not Dana's life will end long before it has a chance to begin. This is one of those books that will haunt you well after you've read it.
In this Afropolitan combination of alien adventure and old school African politics, a woman named Binti is the first of the Himba people ever to be offered a place at Oomza University, the finest institution of higher learning in the galaxy. Binti takes a harrowing journey to get an education, as the world she seeks to enter has long warred with the Meduse, an alien race that has become the stuff of nightmares. Oomza University has wronged the Meduse, and Binti's stellar travel will bring her within their deadly reach. This short novella won both the Hugo and Nebula Awards for Best Novella. At only 96 pages, you can knock this one out in an afternoon.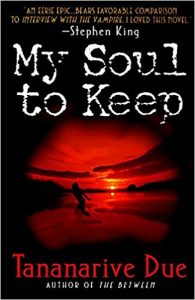 My Soul to Keep by Tananarive Due
In the harrowing first book of the African Immortals series, a woman named Jessica discovers that her husband David is actually more than 400 years old and the member of an Ethiopian sect who traded their humanity so they would never die, a secret he must protect at any cost. Now, his immortal brethren have decided David must return and leave his family. Instead, David vows to invoke a forbidden ritual to keep Jessica and his daughter with him forever. In this skillfully rendered story, Jessica is caught between the desperation of immortals who want to rob her of her life and a husband who wants to rob her of her soul. Due's deft plotting and haunting climax will keep you guessing and stick with you.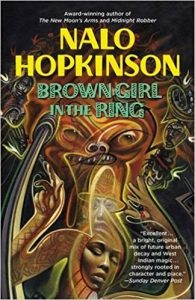 Brown Girl in the Ring by Nalo Hopkinson
Nalo Hopkinson invents some of the most ingenious concepts I've read in speculative fiction, and her sheer innovation is reason enough to read her books. In Brown Girl in the Ring, the rich abandon the city and leave it to crumble, and the inner city must rediscover old ways, such as farming, herbs, and bartering. But when the rich need a harvest of bodies, they prey on the helpless people in the streets, and a young woman must open herself to ancient truths, eternal powers, and the tragic mystery surrounding her mother and grandmother. Set in post-apocalyptic Toronto, this is one of the best books from one of the best speculative fiction writers.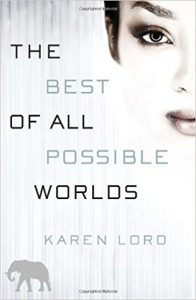 The Best of All Possible Worlds by Karen Lord
Karen Lord is another name that, if you don't already know it, you should. This book is both a gripping adventure and amazingly inventive. Lord loves to take sci-fi tropes and spin and twist them, and the way she plays with tropes in this book will truly blow your mind. Lord shows an impressive sense of perspective in this stunning epic where a man and a woman from two clashing societies must work together to save a vanishing alien race. Part love story, part tragedy, part fantasy, and part science fiction, this book will make you question yourself and the world – and possibly learn something new.
Like all the women on this list, Larissa Lai expertly weaves details from her cultural and ethnic background into her writing, challenging the dominance of white men in genre fiction. The main character in Salt Fish Girl is an ageless female who is sometimes fish, snake, girl, and woman, encountering adversity in the form of capitalist biotechnology and the "dreaming disease," a condition that makes the past leak into the present. Framed by a playful sense of magical realism, Salt Fish Girl reveals a futuristic Pacific Northwest where corporations govern cities, factory workers are cybernetically engineered, middle-class labour is a video game, and those who haven't sold out to commerce and other ills must fight the evil powers intent on controlling everything.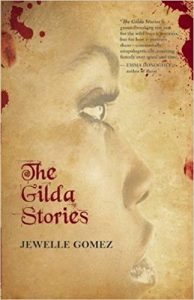 The Gilda Stories by Jewelle Gomez
Before Buffy the Vampire Slayer, Twilight, and Anne Rice, there was queer feminist icon Jewelle Gomez and her debut novel, The Gilda Stories. Beginning with her escape from slavery in the 1850s, this lesbian vampire fantasy (yes, all three of those words apply) follows runaway slave-turned-vampire Gilda through several of her lives spanning the U.S. and several time periods, including New Hampshire in 2050. This groundbreaking book just saw its 25th anniversary in 2016, and it has endured because of its visionary quality in its explorations of blackness, radical ecology, re-definitions of family, and yes, the erotic potential of the vampire story. Gomez, much like Octavia Butler, is a prophet.
Do you think our current immigration system feels like dystopia? Then Ink is a must-read. In this speculative fiction book that seems not-so-speculative anymore, immigrants are marked as "inks" by biometric tattoos. Set in a fictional city and a small, rural town in the U.S. during a 10-year span in the near-future, the novel is told in four voices: a journalist, an ink, an artist, and a teenager whose mother runs a sanitarium-internment center for inks. This novel asks the pertinent question: What happens when rhetoric about immigrants escalates to an institutionalized population control system?

---
You can support us by ordering any of the books we mention on our blog, our podcast, or anywhere via our Place a Special Order form or by calling the store. We will even ship directly to your home. If you like our store and our content, the best way to show us is by buying something!
For more book discussions, book lists, and to see what our book clubs are reading, join our Goodreads discussion group.