10 Ways to Support Us, In Order of Effectiveness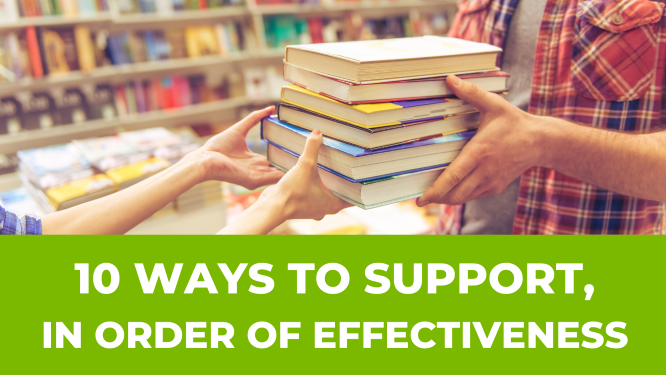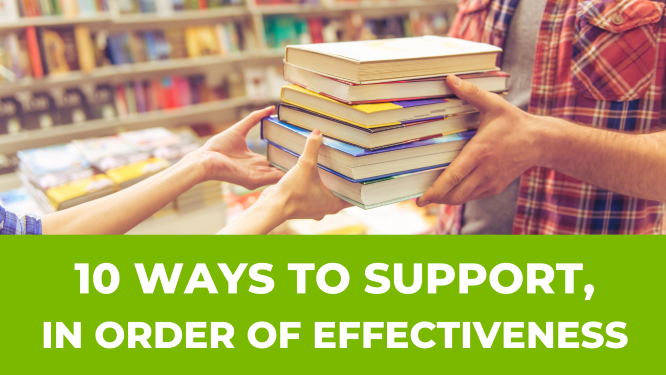 Give us a tip! You can toss any amount of money into our virtual tip jar. This is a donation to us for anything from giving you a great book recommendation to all the free content we provide on our Bookstream. The money from our tip jar will go towards things like:

Operating Expenses – paying rent, invoices, regular bills, etc.
Purchasing a better camera for our Bookstream videos
Purchasing additional cameras, stands, and equipment so we can bring you better quality Bookstream videos
Paying for our new annual subscriptions, such as Streamyard for Bookstream and Zoom for game nights and book clubs

Buy a gift card! One of the best ways to support us is by purchasing a gift card. This is another way to give us the influx of cash we need right now to pay our bills while saving us, warehouse workers, and delivery workers from having to be out and about. Anticipate expenses you'll have anyway, such as holiday season, birthdays, baby showers, etc. and buy a gift card to cover those purchases. This helps us out now and you out later!
Pre-order books! This is always one of the best ways to support both bookstores and authors. If there's a book coming out in the next few months that you know you want, go ahead and pre-order it and pay upfront. This again gives us the cash we need now, and you get a book later! Check out our "Pre-Order Now" list on our Bookshop online store for ideas.
Buy our merchandise! For a limited time through May 10, you can order Tubby & Coo's branded merchandise, such as t-shirts, sweatshirts, hoodies, mugs, and tote bags, through our Bonfire campaign. We receive 100% of the profits from these sales, and Bonfire handles all the printing of items and fulfillment of orders, so it's definitely a win for us!
Order more than what's on our shelves, order books related to our virtual author events, and order multiple books! If there's a book you want that we don't have in stock, still order it from us! We can order any book that is in print (and some that are out of print). Even if it's out of our regular wheelhouse, we will order anything. So stock up now on all the books you want. You can always read them later 🙂 Also, ordering books related to our virtual author events is important, as that is how publishers gage the success of an event. If we have 600 viewers but sell 0 books, publishers won't keep sending us authors. So make sure you're purchasing books for the author events you're enjoying so that publishers continue to send us great authors!
Order books from us directly for porch pickup! As always, if we do not have a book in stock that you're looking for, you can order from us directly and come and pick it up off our porch. This is contactless and safe for everyone, and it prevents us from having to be out doing deliveries or going to the post office. It also saves us on shipping.
Order books from us directly for local delivery! If you can't get to the store to pick up your order, you can order from us directly, and if you spend at least $40, we'll deliver it right to your doorstep. Like porch pickup, this saves us on shipping and is contactless.
Shop our Bookshop online store! This isn't quite as good for us financially as ordering from us directly, but we still do get a decent percentage of these profits, and you can order from Bookshop 24/7 and get it shipped directly to you. Please note that Bookshop is a third party site, and we are not responsible for the fulfillment of orders placed there. Therefore, you cannot use our store gift cards to pay for Bookshop orders, nor do we have control over the order, fulfillment, or shipping of Bookshop orders. We simply have an affiliate site there and get a percentage of all profits made through our affiliate site.
Buy an audiobook membership (or audiobooks in general)! Switch your Audible membership over to Libro.fm and support us instead of Amazon. The membership cost is the same, and both sites pull from the same library of audiobooks. If you don't have time to read, it's difficult for you to concentrate on reading, and/or you travel a lot, this is the perfect solution!
Buy e-books! Are you more of an e-book reader than a physical book reader? You can support us instead of Amazon buy buying your e-books from us via Hummingbird. There is an app for you to download, and these e-books are compatible with Kindle Fire, Kobo, and Nook.
If you find yourself low on funds, here are some ways you can support without spending any money.
Share our social media content and Bookstreams! The best no-cost way to support us is to share our content. This helps get the word out to more people about what we do and helps us to build our community and audience.
Watch our Bookstream! We do live videos almost every day, typically at noon and 6PM Central. You can watch on our Facebook page, YouTube channel, or website, although watching via Facebook or YouTube is better, as it shows us the number of views a video has received. Watching our Bookstream helps us to build our online community and audience, which helps us with publishers to get virtual author events. You can get our Bookstream schedule on our website home page or on our events page.
Sign up for our newsletter, subscribe to our YouTube channel, and follow us on social media! These also help us build our online community and audience, and the bigger our audience, the more it helps us with publishers and events.