Exclusive Sale Items for Independent Bookstore Day 2018

The folks behind Independent Bookstore Day have curated an awesome list of exclusive custom merchandise that will ONLY be available on Independent Bookstore Day, May 12, 2018 and only at indie bookstores (like us!). We are not allowed to take pre-orders or hold items, and quantities are extremely limited, so if you're interested in an item, you'll just have to do like you do for new Apple products and camp out in front of the shop the night before. Keep in mind that you may be able to find different exclusive items at different local indies, so be sure to visit Garden District Book Shop and Octavia Books as well! If you spend at least $25 in the store on Independent Bookstore Day, you'll score freebies like a specially stickered edition of Feminism: A Short Introduction by Margaret Walters, tote bags, buttons, board game promos, advance review copies of books, an EXCLUSIVE Harry Potter giveaway in celebration of the book's 20th anniversary, and more! The complete catalog of exclusive custom merchandise available at Tubby & Coo's on May 12 only is listed below. Happy shopping!
EXCLUSIVE INDIE BOOKSTORE DAY MERCHANDISE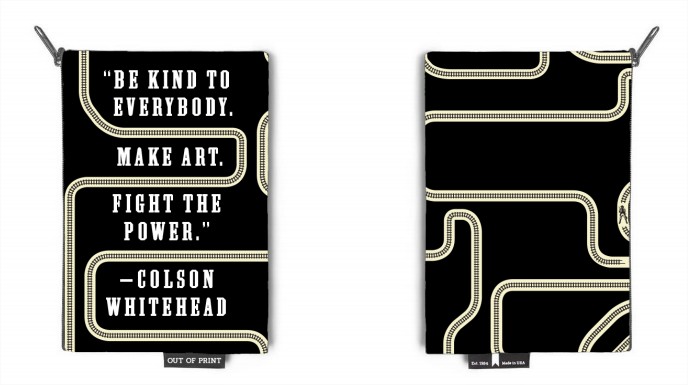 This handy 100% cotton canvas zippered pouch (perfect for pencils, make up, cash, and other sundries) features a quote from Colson Whitehead's inspirational National Book Award speech and design elements from the cover of Underground Railroad. "BE KIND TO EVERYBODY. MAKE ART. FIGHT THE POWER."
Publisher: Out of Print/Penguin Random House ISBN: 656554048779 Retail Price: $14.00 Authors: Colson Whitehead Specs: 100% cotton canvas, zipper enclosure, 9″ x 6," Made in the USA
ONLY FIVE (5) AVAILABLE. FIRST COME, FIRST SERVED.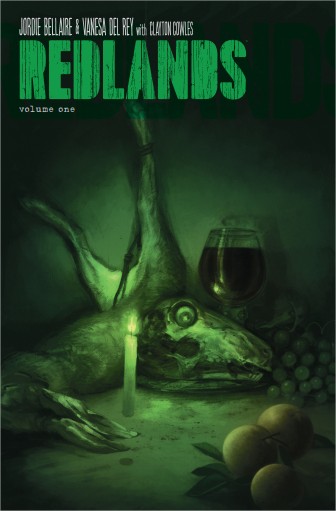 A feminist comic by female creators! A mysterious and bloodthirsty matriarchal force runs the town of Redlands, Florida, and in order to stay on top, sacrifices must be made. Inspired by the strange complexities of real-world politics and crime, the characters of Redlands play victim and villain, attempting to understand themselves and others through murder, magic, and mayhem. This special edition will have an exclusive cover and be signed by BOTH creators!
About the creators: Jordie Bellaire is a two-time Eisner winning colorist for acclaimed projects such as Vision, They're Not Like Us, Pretty Deadly, Injection, Autumnlands, as well as mainstream hits like Batman, Deadpool, Moon Knight, and Hawkeye. She is writer and co-creator with artist Vanesa R. Del Rey on the ongoing Image Comics series Redlands. She lives in Ireland with her famous cat, Buffy.
Cuban artist Vanesa R. Del Rey began her career doing concept art for animation. Her work in comics has been described as dark, gritty and mysterious with great dominance of figurative work. She has illustrated Scarlet Witch, Spider-Women Alpha, and Daredevil Annual (2016) for Marvel Comics. Redlands, co-created with Jordie Bellaire is her first creator-owned series with Image Comics. She currently lives and works by the beach in Miami, FL.
Publisher: Image Comics ISBN: 9781534308213 Retail Price: $9.99 Authors: Jordie Bellaire & Vanes R. Del Rey Specs: 6.625 x 10.8 full color comic book with an exclusive cover
ONLY TEN (10) AVAILABLE.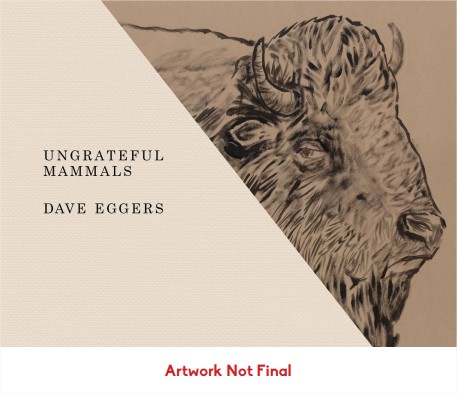 Each one of these special editions of Ungrateful Mammals includes an ORIGINAL and UNIQUE hand drawing by Dave Eggers. They are true collector's items with original works of art inside each one. Books will arrive individually shrink-wrapped. Quantities are extremely limited. There are only 160 in existence, and we are only allocated 2 copies.
Publisher: Abrams ISBN: 9781419733406 Retail Price: $40.00 Author: Dave Eggers Specs: Hardcover, 11″ x 1″ x 8″ Limit: 2 per store by allocation
THESE ARE EXTREMELY LIMITED. ONLY TWO (2) AVAILABLE. FIRST COME, FIRST SERVED.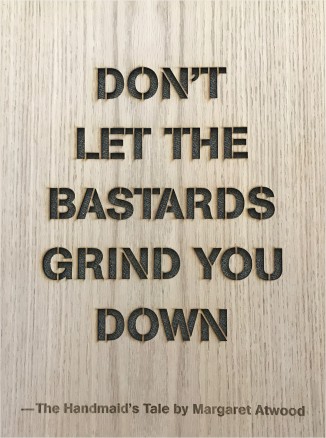 Every year, the folks behind Independent Bookstore Day create a signature "Bad Citizen" Graffiti Stencil to highlight the authors and the words that push us to think, read, and be disruptive when necessary. This year's stencil features a timely quote from Margaret Atwood's The Handmaid's Tale: DON'T LET THE BASTARDS GRIND YOU DOWN, the ultimate rallying cry for our time.
Publisher: CBD Publishing ISBN: 9780998449968 Retail Price: $35.00 Author: Margaret Atwood Specs: 16" x 20", full-color, gallery quality giclee print suitable for framing
THESE ARE EXTREMELY LIMITED. ONLY TWO (2) AVAILABLE. FIRST COME, FIRST SERVED.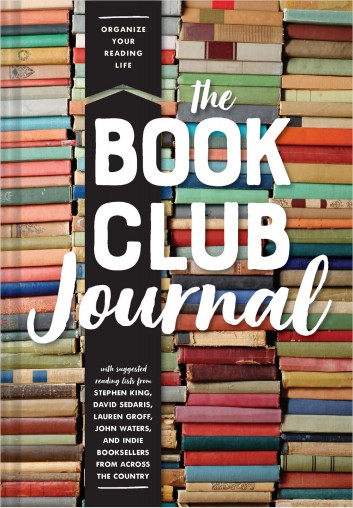 Finally, a way for book clubs (or solo readers) to keep track of their reading lives! This beautifully
designed journal has pages and prompts for writing your thoughts and opinions about the
books you've read, keeping track of book club meetings, and more than 45 original, themed
recommended reading lists from authors and booksellers around the country. Martin Cruz
Smith gives us the "Real Russia" reading list. The booksellers at Parnassus in Nashville give us
"Books narrated by non-humans."
Publisher: CBD Publishing ISBN: 9780998449937 Retail Price: $16.99 Authors: Various. Includes reading lists from David Sedaris, John Waters, Lauren Groff, Stephen King, Martin Cruz Smith and more!  Specs: Perfect-bound paperback, full color interior, 5.8" x 8.7"
ONLY TEN (10) AVAILABLE.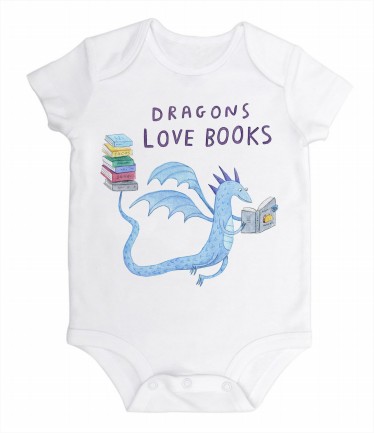 A super-soft onesie for bookish babies based on Adam Rubin's bestselling Dragons Love Tacos
books illustrated by the wonderful Daniel Salmieri.
About the illustrator: Daniel Salmieri has illustrated many fantastic picture books, including
Secret Pizza Party and the New York Times bestseller Dragons Love Tacos. He lives in Brooklyn,
New York.
Publisher: Out of Print Clothing/Random House UPC: 656554048908 Retail Price: $22 Illustrator: Daniel Salmieri Specs: 100% cotton bodysuit, size 12 months
THESE ARE EXTREMELY LIMITED. ONLY TWO (2) AVAILABLE. FIRST COME, FIRST SERVED.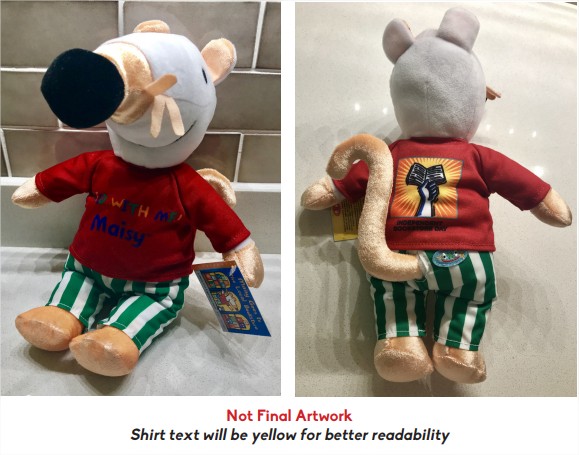 Everybody's favorite preschool mouse Maisy, star of dozens of beloved books, wears her exclusive READ WITH ME t-shirt with pride! Back of t-shirt sports the IBD logo.

About the author: Lucy Cousins is the creator of the beloved Maisy series. She is also the author-illustrator of the widely acclaimed Yummy: Eight Favorite Fairy Tales, a New York Times Book Review Best Illustrated Children's Book of the Year, as well as I'm the Best and Hooray for Fish! She lives in Hampshire, England.
Publisher: Candlewick UPC: 819303006806 Retail Price: $15.00 Author: Lucy Cousins Specs: 10" tall
THESE ARE EXTREMELY LIMITED. ONLY TWO (2) AVAILABLE. FIRST COME, FIRST SERVED.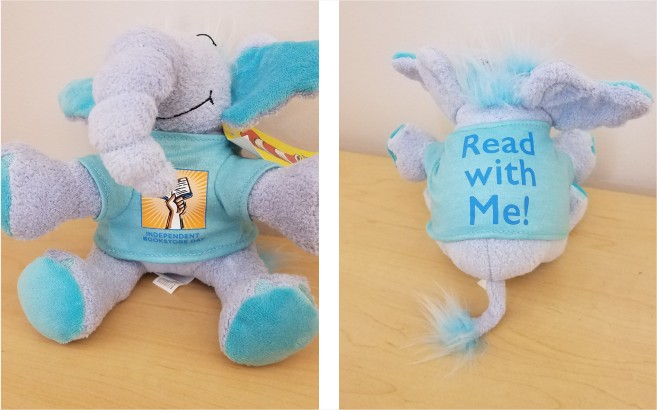 "I meant what I said, and I said what I meant. An elephant's faithful, one hundred percent!" A
1940 Dr. Seuss classic is now an IBD exclusive with a pro-reading, indie message on his t-shirt.
Faithful Horton, of Horton Hatches the Egg and Horton Hears a Who fame, is a true collectible
and very cuddly. Back of t-shirt reads: READ WITH ME. Front of t-shirt sports the IBD logo.
Publisher: Random House Children's Books UPC: 011964488261 Retail Price: $15.00 Author: Dr. Seuss Specs: 6" tall x 7" long x 3.5" wide
THESE ARE EXTREMELY LIMITED. ONLY THREE (3) AVAILABLE. FIRST COME, FIRST SERVED.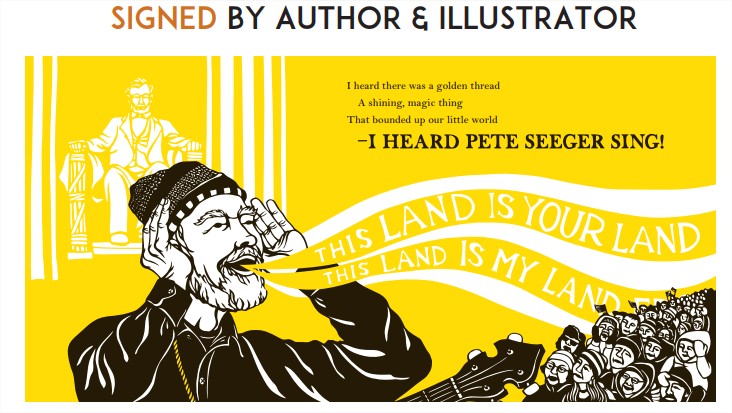 Pete Seeger once sang that if he had a golden thread, he would use it to weave people from all
over the world to one another. Pete Seeger's messages of universal understanding and social
and environmental justice inspired generations—and have left a lasting legacy. With dazzling,
lyrical verse in the folk revival style, and cut-paper illustrations in black and ochre that capture
the spirit of the man and his times, Colin Meloy and Nikki McClure pay tribute to a visionary
who changed the world with song.
Publisher: Harper Collins Kids ISBN: 9780062862785 Retail Price: $35.00 Author: Colin Meloy Illustrator: Nikki McClure Specs: 20" x 10" silkscreen print on 100% post-consumer recycled paper & suitable
for framing Print Run Limit: 750
THESE ARE EXTREMELY LIMITED. ONLY ONE (1) AVAILABLE. FIRST COME, FIRST SERVED.
EXCLUSIVE INDIE BOOKSTORE DAY FREEBIES