Our Favorite New Orleans Vampires Return!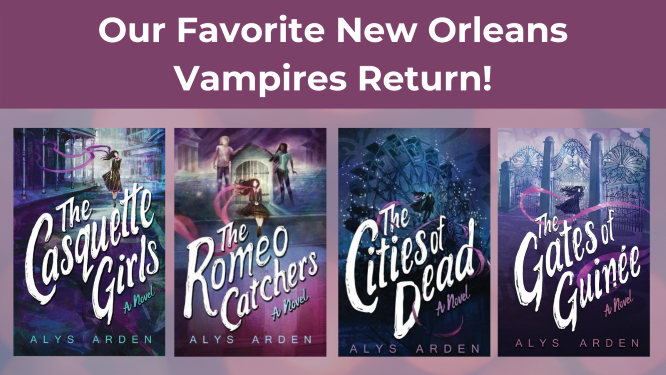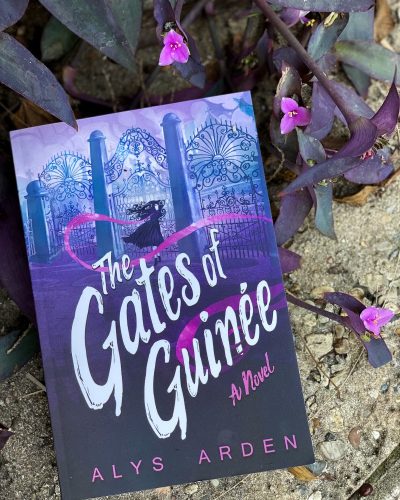 It's one of our favorite times of the year — no, not Carnival season (although we *are* super excited about king cake!) — the fourth installment in The Casquette Girls series is about to be in our hands! Hailed as "the Anne Rice of the text message generation," Alys Arden's sparkling debut, The Casquette Girls, entranced over a million readers online, and the series has since garnered a cult following around the world.

Whether your penchant for vampire literature is more Anne Rice, Poppy Z. Brite, or Buffy the Vampire Slayer, we promise you will love The Casquette Girls, written by local author Alys Arden. Year after year, it's been our top selling-series, and we are so excited that the final volume is releasing January 19!

A multi-generational saga, The Casquette Girls is set in a gritty, post-hurricane French Quarter and masterfully ties together our three most popular vampire urban legends in a way that only a local New Orleanian could. The second installment, The Romeo Catchers, brings in French Quarter ghost urban legends, as the name would suggest. The third book, The Cities of Dead, starts the war of the witches, giving a tour of many of the city's most infamous cemeteries, and the fourth book, The Gates of Guinée, ties it all together, incorporating one of New Orleans' greatest Voodoo urban legends about the gates to the Afterworld.
"A Southern Gothic love letter." — Publishers Weekly, Starred Review
Don't miss out on your chance to get a signed and personalized copy of The Gates of Guinée. Also, if you order any of the first three books, they can be signed. Order all four books in a bundle and get a discount! Click the images below to order.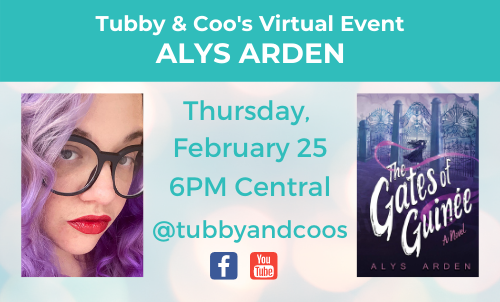 Alys will be joining us on Thursday, February 25 at 6PM CT in a virtual event to celebrate the release of Gates of Guinée and talk all things Casquette Girls! The event will stream live on our YouTube channel, Facebook page, and the home page of our website.
ABOUT GATES OF GUINÉE:

A trip to the Afterworld might be the end of the supernatural world.

As the Ghost Drinkers seep into the crevices of the Crescent City, leeching the French Quarter of magic, the local witches are consumed with a new fight for survival. Adele has one chance to save everyone she loves, but it will mean breaking away from her coven and trusting a vampire.

For the first time in four hundred years, Niccolò Medici feels on the precipice of finding his stolen grimoire. But in order to restore his family's legacy, he'll have to succumb to his darkest desires.

New York transplant and first responder Isaac Thompson will stop at nothing to protect Adele, even if he has to give in to his Spektral magic to unearth the truth about Nicco's monstrous past. 

For those who choose to pass through the Gates of Guinée, the rules of the Afterworld are simple: Don't eat the food. Tell no lies.

In a whirl of lucid dreams, fetish markets, and ancestral reunions, only those who bare their souls will survive this ghostly hunt, or else they'll join the land of the dead permanently.

Teetering on the razor's edge between everything she desires and utter madness, only her heart and her magic can lead Adele back home… if only Callisto Salazar hadn't stolen her Fire, and the most secretive one of them all hadn't stolen her heart.

The series has brought readers from New Orleans to the cobblestone streets of Paris (in The Casquette Girls) to the alchemical labs of Florence (The Romeo Catchers) and to the forests of Basque Country (The Cities of Dead). The Gates of Guinée transports readers to an unknown world, one that few are aware of and even fewer have returned from. Dare to cross through the gates and prepare to be greatly rewarded with an emotional rollercoaster of magic, love, and loss. 

"A cathartic, uncompromising tribute to New Orleans." —Kirkus Reviews, on The Casquette Girls

"Intricately woven. A slow-burning novel in the tradition of Anne Rice." —Rue Morgue Magazine, on The Casquette Girls

"A great teenagers-battling-vampires epic in the grand tradition of Buffy and The Lost Boys." —IndieReader, on The Casquette Girls

"Eerie, magical, and gritty, getting into the grimy seams of New Orleans in the tradition of Anne Rice or Poppy Z Brite." —SP Reviews, on The Casquette Girls

"Readers will be enchanted and horrified in turn." —RT Book Reviews, on The Romeo Catchers

"A meticulous blend of witchery, New Orleans lore, and teen angst." —Kirkus Reviews, on The Romeo Catchers

"A magnificent supernatural saga." —Kirkus Reviews, on The Cities of Dead