Submission Guidelines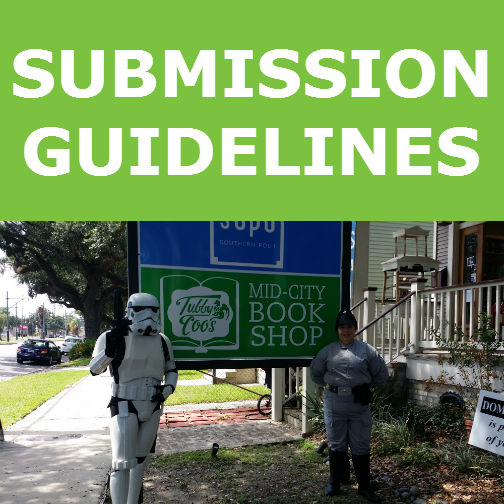 WHAT WE'RE LOOKING FOR
Tubby & Coo's mission is to help people tell their stories, whatever that story may be. We are accepting and supportive of diverse stories and of all types of people. We are actively seeking submissions from writers and about characters from underrepresented populations, including, but not limited to, any race, religion, gender, nationality, sexual orientation, social class, and/or physical or mental ability. Great stories are representative of the diverse human species, and we would really like to promote great, diverse stories.
We are seeking complete, original science fiction, fantasy, young adult, middle grade, and graphic stories of all varieties, including, but not limited to, space operas, time travel stories, near-future stories, technothrillers, steampunk, cyberpunk, urban fantasy, traditional fantasy, and dystopian stories.
We are also seeking complete, original children's picture books on any subject, but we highly prefer diverse children's stories and stories about or taking place in New Orleans.
We will accept stories told in different formats, including novels, graphic novels, short story collections, and collections of blog posts (as long as it's fiction).
We define "graphic" novels as stories told in comic format that are at least 50 pages in length.
WHAT WE'RE NOT LOOKING FOR
Fan fiction or tie-in fiction
Twitter fiction
Poetry collections/chapbooks
Single issue comics
Magazines
Short stories
Art books
Works previously published by a third party entity (self-published and digitally self-published works are acceptable).
Works not identifiable as science fiction, fantasy, children's, or graphic novels, including, but not limited to, any non-fiction, memoirs, non-science-fiction mysteries/thrillers, literary fiction, and romance.
Works that are already part of another Inkshares collection.
FAQs
Is there an entry fee? No.
Who is eligible to submit? This contest is open to everyone.
Do you accept multiple submissions?
We will accept a maximum of three (3) submissions per author. If you submit more than three works, we will accept the first three submitted and disregard the additional entries.
Do you accept simultaneous submissions?
Yes, but please inform us immediately if your work is accepted elsewhere.
Do you accept previously published work?
We do not accept previously published work if it was published by a third party entity outside of yourself. We will accept previously self-published works, whether print or digitally published.
Do you accept incomplete works/drafts?
We will not accept incomplete works or sample chapters or pitches. We are looking for completed works only. We are willing to accept drafts as long as the draft is complete. You will be allowed to change/edit your draft up until the December 31 deadline. After the deadline, we will no longer accept changes/edits.
What is your definition of science fiction/fantasy/children's literature? What is your definition of a "graphic" novel?
Authors can self-define the genre in which their story fits best. See the "What We're Looking For" section above for additional details on the types of stories we prefer.
What do you consider a short story "collection"? Is there a specific word limit?
We consider a short story collection to be at least 50,000 words total and at least three (3) stories. We will not accept individual short stories. Anthologies of short stories by various authors are acceptable as long as there is one point person and as long as everyone involved in the project understands that, if published, ALL members of the project will need to split the profits. Once the top five finalists are announced, Tubby & Coo's will have individual conversations with each finalist regarding contracts.
What do you mean by "original" work?
By "original," we mean "your own/not written by someone else or plagiarized" and "not previously published." All stories submitted to us should be new stories written by the person who is submitting them.
Can I expect to hear back?
As much as we would love to respond to everyone individually, that is just not possible. We would rather spend that time reading all the great submissions! If you are selected as one of the top five finalists, you will be notified on January 15, 2016. If you do not receive notification from us, you can assume that your work was not selected as one of the finalists.
HOW DO I SUBMIT?
You should upload your draft to Inkshares first.
Fill out this form to let us know you have a draft for us to consider.
Pitch your work to us via the "Pitch" button on Inkshares.
We will only accept submissions via the form on our website AND that are posted as drafts on Inkshares. Any submissions sent to us a different way, including regular mail or e-mail, will be deleted without reply.
*If your submission does not meet these requirements, it will be disqualified without reply.*
SUBMISSION DEADLINE: DECEMBER 31, 2015
NOTE: The intent of the Tubby & Coo's Inkshares collection is to gain publicity for lesser known authors and their works and, in partnership with Inkshares, to democratize the process by which books are traditionally published. The purpose is to highlight reader interest in specific works, and we, along with Inkshares, trust in the community to support the works they want published. Gaming the system in any way and/or abusing the democratic spirit of this contest is prohibited and will result in immediate disqualification.