Tubby & Coo's is Relocating!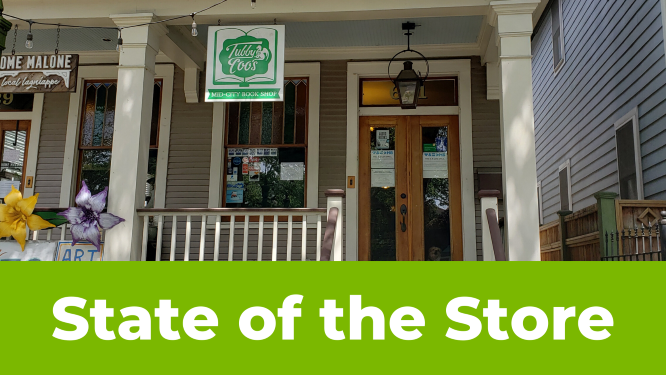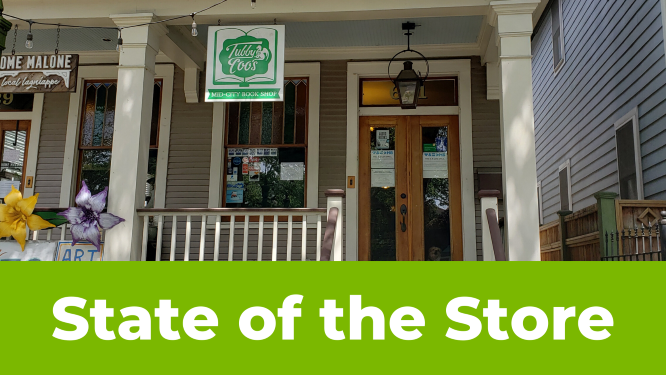 We're extremely excited to announce that we are relocating to a new and improved space! Don't worry, we'll still be in Mid-City; we're moving only 5 minutes away from our current location.
Our new location will be 432 N. Anthony Street, Suite 305C, right behind Second Line Brewing (we can't wait to collaborate!), Mopho, and Burger King. The building was built in 1920 and used to be a train supply warehouse, so we're excited to be in an historic building!
Some of the pluses of our new space:
We will have a parking lot.

We will be all on one floor, so no more stairs.

We will have a ramp, and our space will be much more accessible.

We're upgrading our bookshelves and decor to go for a more modern look and feel (but of course, still as warm and welcome as we've always been).

We're refocusing our inventory to give you, our wonderful customers, more of what you know and love us for: science fiction, fantasy, graphic novels, children's books, young adult, queer books, and feminist, antiracist, queer, activist, and pop culture nonfiction. 
We are SO EXCITED to level up in our new space, and we hope you'll be excited too!
We're in the midst of packing up the store and relocating everything, so please bear with us. We are still taking orders for porch pickup and shipping; however, we are suspending local delivery until we finish the move. Porch pickup will still take place at our current location until further notice. You can also order anything you wish from our Bookshop affiliate site and have it shipped directly to you. Ordering from Bookshop will be faster than ordering directly from us, at least until we get fully set up in the new space. 
We can still take direct orders, it will just take us a little longer than usual to get the books in (our current time frame is 2 weeks, due to COVID restrictions with warehouses and our current packing situation). During this time, even if we have the book "in stock," it is likely packed away somewhere, so we'll be ordering everything until we're set up in the new space.
The store will remained closed for in-person browsing until the new space opens and we feel safe to let people in with the COVID situation. We're very much looking forward to throwing a party to let all our customers see the new space!
Make sure to follow us @tubbyandcoos on Facebook, Instagram, and Twitter for updates on the relocation, including a walk through of the new space.
Onward!
Candice Huber, Owner