Orbit Pride 2022: Virtual Queer Book Events!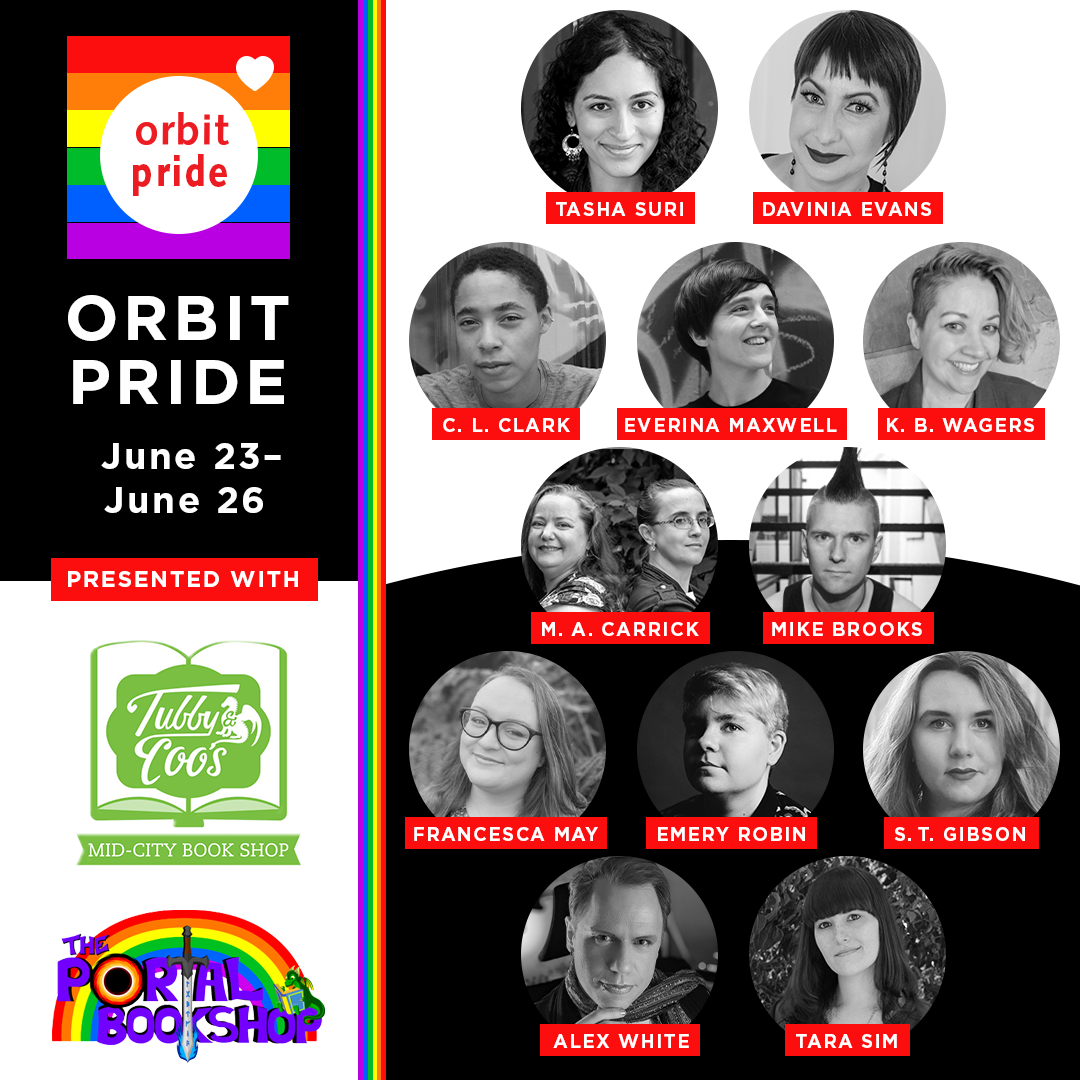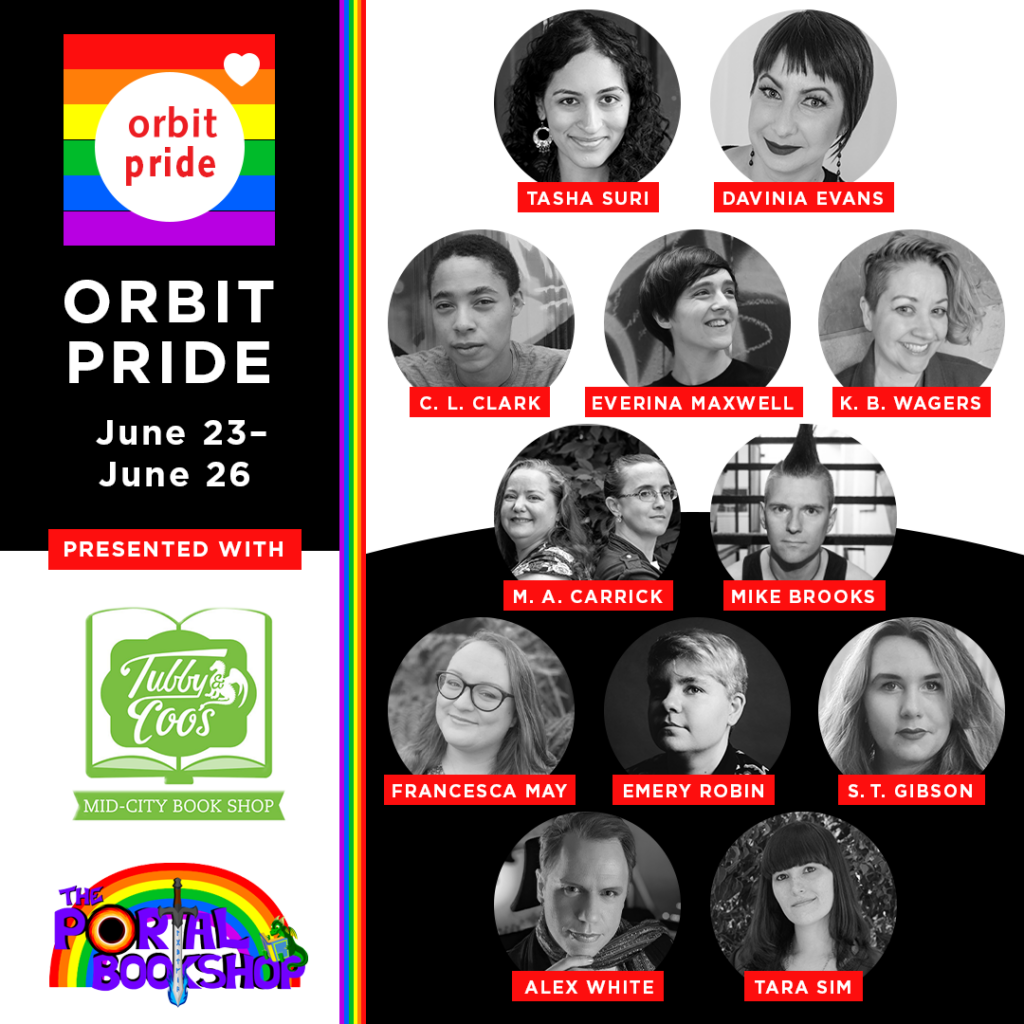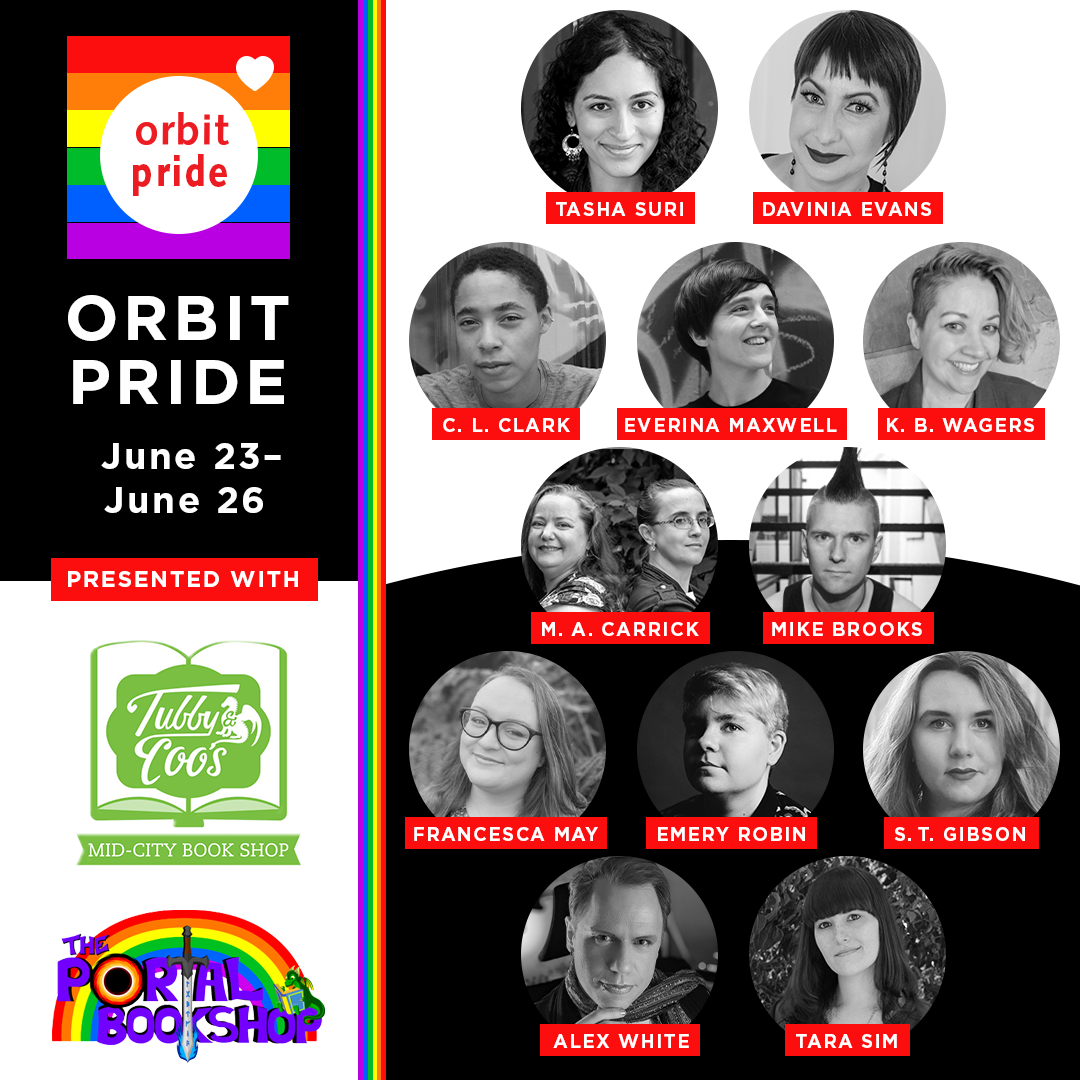 Tubby & Coos Mid-City Bookshop is pleased to host Orbit Pride this year in the U.S., along with our friends Portal Bookshop in the U.K.! From June 23-26, Orbit U.S. and U.K. will present six virtual panels featuring twelve fantastic authors. These events will be held digitally via Crowdcast. 
You can register for any of the events and buy books below!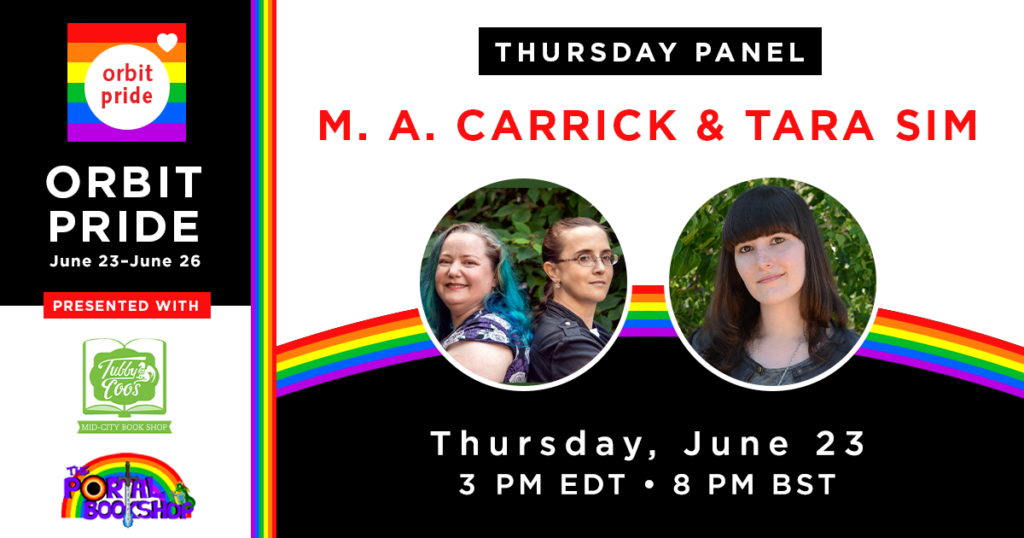 Thursday, June 23, 2PM CT
Join authors M.A. Carrick and Tara Sim for a special Orbit Pride conversation event about queer representation in dark fantasies with large casts.
Tara Sim (she/her) is the author of The City of Dusk, the first book in her Dark Gods series. Tara is the author of several YA fantasy books, including Scavenge the Stars and Timekeeper. The City of Dusk is her first adult fantasy novel.
M.A. Carrick is a pseudonym for fantasy authors Marie Brennan (she/her) and Alyc Helms (they/them). Their Rook and Rose trilogy began with The Mask of Mirrors . The Liar's Knot, the second book of the series, is also available.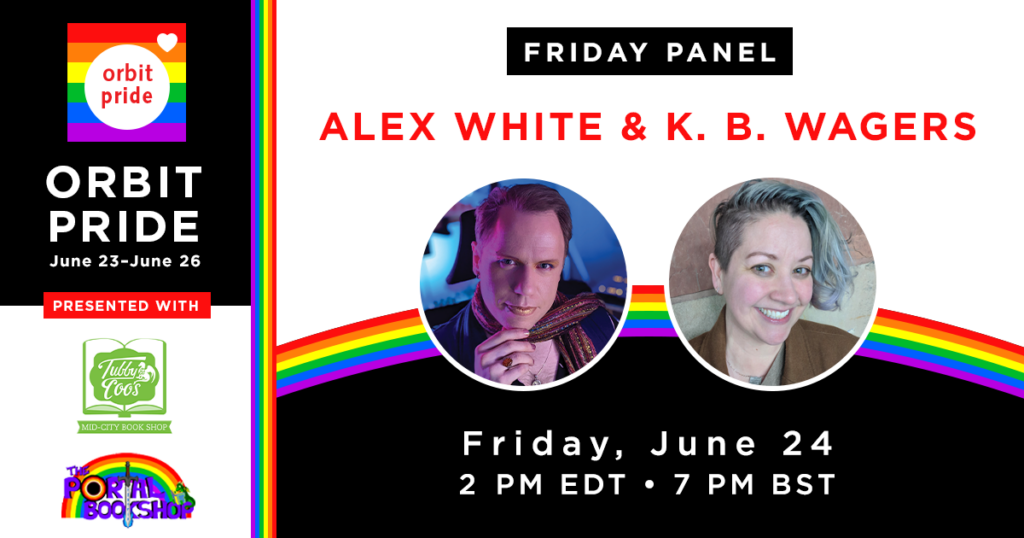 Alex White & K.B. Wagers, Moderated by Owner Candice Huber!
Join authors Alex White and K.B. Wagers for a special Orbit Pride conversation event with Candice Huber (they/them), owner of Tubby & Coo's Mid-City Book Shop, about queer representation in space operas. 
Alex White (they/them) is the author of the the Salvagers series, which began with A Big Ship at the End of the Universe. Their brand new Starmetal Symphony series begins with August Kitko and the Mechas in Space, which will be available July 12.
K.B. Wagers (they/them) is the author of several science fiction books, including the Indranan War series, which began with Behind the Throne, and the Farian War series, which began with There Before the Chaos. All books from both series are available now.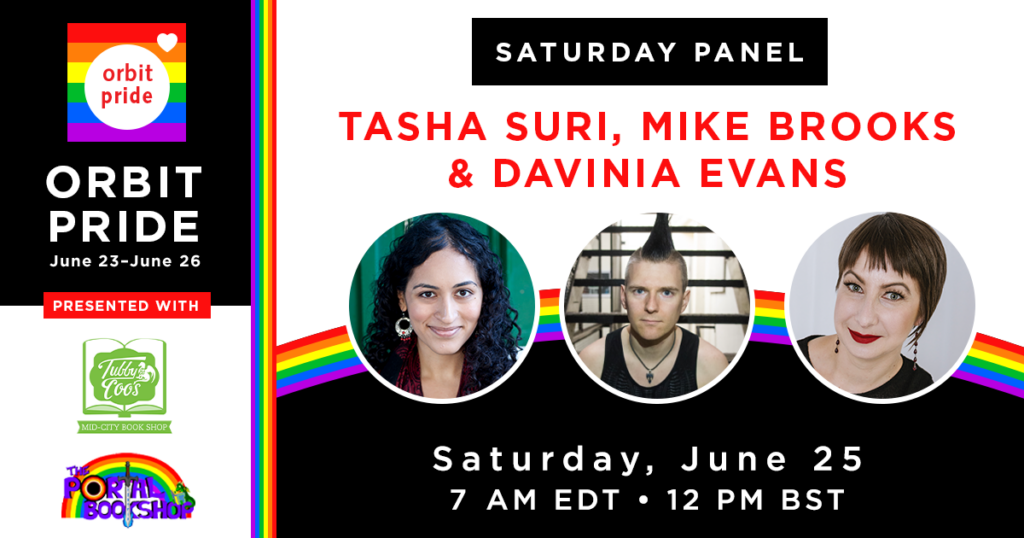 Tasha Suri, Mike Brooks, & Davinia Evans
Saturday, June 25, 6AM CT
Join Tasha Suri, Mike Brooks and Davinia Evans In Conversation with Sara (the Fantasy Inn) about Queer Representation in Epic Fantasy

Tasha Suri is the author of THE JASMINE THRONE and the upcoming OLEANDER SWORD (Aug 2022) as well as the Books of Ambha series (EMPIRE OF SAND and REALM OF ASH)

Mike Brooks is the author of THE BLACK COAST, SPLINTER KING and the upcoming GODBREAKER (June 2022).

Davinia Evans is author of debut novel NOTORIOUS SORCERER (September 2022)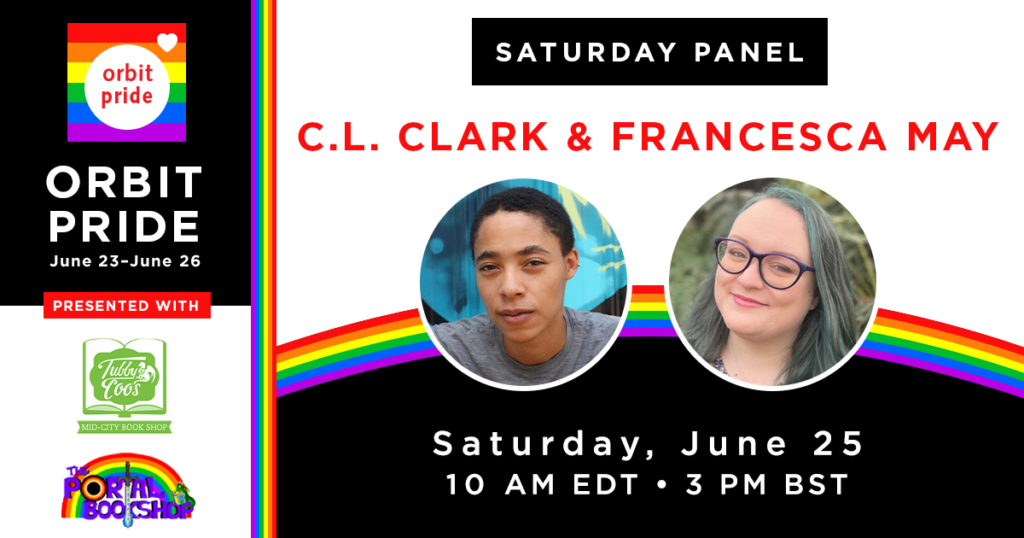 C.L. Clark & Francesca May
Saturday, June 25, 9AM CT
Join C. L. Clark and Francesca May in conversation with Lali (Portal Bookshop) as they discuss all things golden and sapphic.

C. L. Clark is the author of the Nebula Award-nominated THE UNBROKEN and the upcoming THE FAITHLESS (Mar 2023). When she's not imagining the fall of empires, she's trying not to throw her kettlebells through the walls.

Francesca May is the author of WILD AND WICKED THINGS, a queer historical fantasy set in the 1920s, a glittering world filled with illicit magic, romance, blood debts, and murder. By day, Francesca is a bookseller at Waterstones in England. By night, she writes novels about gothic mansions, witchcraft, and queer love.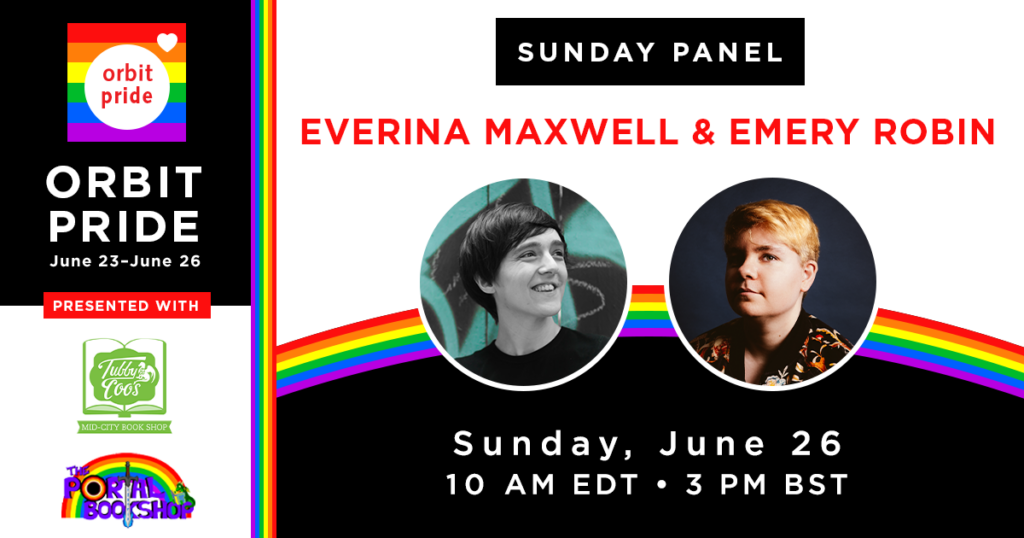 Everina Maxwell & Emery Robin
Join Everina Maxwell and Emery Robin discussing debut novels and queer romance in Space Operas with Lali from Portal Bookshop.

Everina Maxwell is the author of WINTER'S ORBIT, a heart-wrenching and romantic space opera debut, and upcoming OCEAN'S ECHO (November 2022). When not writing, Everina can be found on weekends at a bookshop or up some dales.

Emery Robin is the author of upcoming novel, THE STARS UNDYING, a spectacular space opera debut inspired by the lives and loves of Cleopatra and Julius Caesar. Emery is recovering Californian, and sometime student of propaganda and art history living in New York City.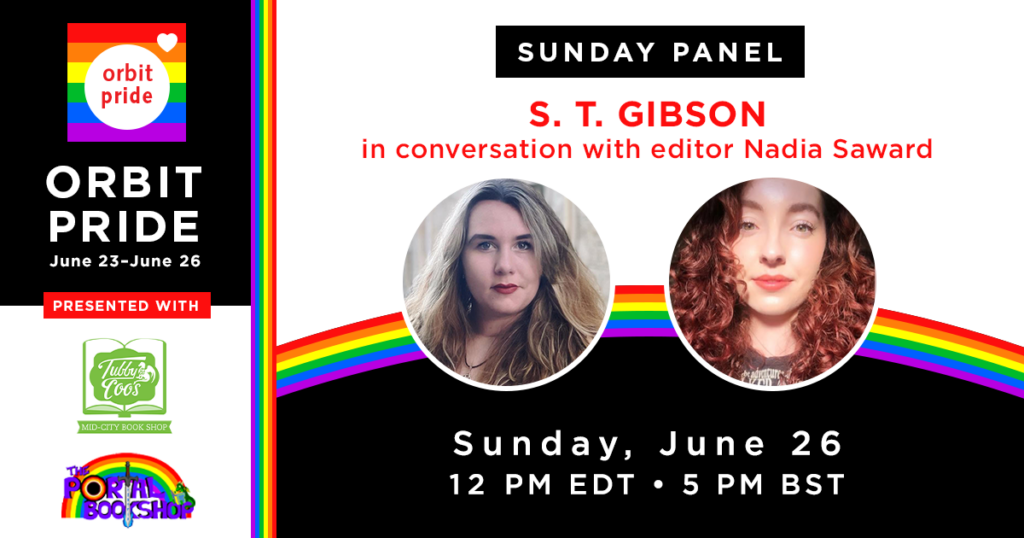 S.T. Gibson In Conversation With Nadia Saward
Join S .T. Gibson in conversation with Orbit editor Nadia Saward about all things Dracula, obsession and polyamory

S. T. Gibson is the author of Tiktok sensation A DOWRY OF BLOOD (October 2022), a deliciously dark retelling of Dracula, A Dowry of Blood is a saga of obsession, desire and the lengths we will go to protect the ones we love.
S. T. is an author, literary agent, and village wise woman in training. She currently lives in Boston with her fiance, spoiled Persian cat, and vintage blazer collection.

Nadia Saward has an MA in Creative Writing and is currently assistant editor at Orbit UK, their recent acquisitions include, A Dowry of Blood, Half a Soul and The Undertaking of Hart and Mercy